Hanapepe Homestead Project
Hanapēpē Homestead Community
Hanapēpē Residential and Subsistence Agriculture Homestead Community
The State Department of Hawaiian Home Lands (DHHL) is developing a land-use plan and seeking environmental approvals for a homestead community on approximately 365 acres of land at Hanapēpē, Kaua'i. The purpose of the project is to provide residential and subsistence agriculture homesteading opportunities to DHHL's waitlist beneficiaries.
The Hanapēpē homestead community was identified in DHHL's Kaua'i Island Plan (2004) with a mix of land uses including subsistence agricultural, residential, commercial, and community use. It is envisioned to be DHHL's largest residential and agricultural community on the west side of Kaua'i. The mauka lands include some of the most fertile agricultural lands within DHHL's holdings, and its location near Hanapēpē town and within commuting distance of regional job centers make it an attractive location for homestead development.
DHHL's Administrative Rules were amended in March 2017 to include a new Subsistence Agriculture Homestead Lease. The Subsistence Ag Homestead Lease is for smaller ag lots, not to exceed 3 acres. The Administrative Rules require Subsistence Ag Homestead lessees to cultivate their lots with plants and/or animals. Farm plans are not required, and the construction of a house and residing on the lot is optional.
Hanapēpē Project Area Map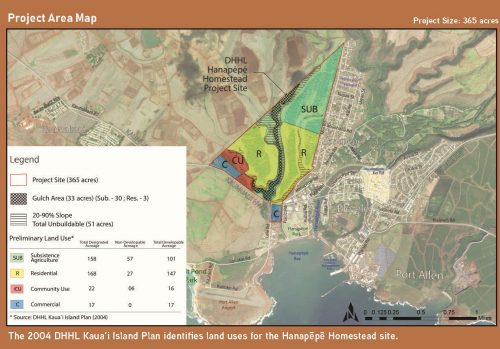 FREQUENTLY ASKED QUESTIONS
1) Will the land uses for the site change?
This project will involve studies and community engagement to verify or update the land use plan and identify infrastructure needs for the site. It will also recommend a location for the next phase of residential and subsistence agriculture development.
2) When will the next homes be awarded?
Design and engineering for the next phase of homes will begin in 2020 after the environmental assessment is completed. Construction and awards of homesteads for the next phase is anticipated within the next 5 to 8 years. However, the timeframe for the start of construction for the next phase is dependent upon DHHL receiving sufficient funding.
3) When will the site be fully developed?
The full buildout of the entire site could occur over the next 20 years. Again, the timeframe for the development of DHHL's Hanapepe lands is dependent upon DHHL receiving sufficient funding.
BENEFICIARY CONSULTATION
1
Proposed Action or Issue for Discussion
The Department is engaging Kaua'i Island Residential and Agriculture Wait-list applicants and existing Hanapēpē Lessees to participate in a series of meetings in order to develop a Conceptual Land Use Plan ("Master Plan") and Draft Environmental Assessment for a Residential and Subsistence Agricultural Homestead Community on DHHL's Hanapēpē lands (365 acres). Once the draft Master Plan is developed, an Environmental Assessment will be completed to identify and mitigate impacts generated by the proposed project.
2
Notification
Meeting Presentations, Handouts, and Meeting Notes
Hanapēpē Homestead Lessees Meeting

Hanapēpē Library
December 13, 2018
6:00 p.m. – 8:00 p.m.

Hanapēpē Homestead Beneficiary Consultation Meeting #1

'Ele'ele Elementary School Cafeteria
July 24, 2019
6:00 p.m. – 8:00 p.m.

Hanapēpē Homestead Community Meeting #1

'Ele'ele Elementary School Cafeteria
Oct. 26, 2019
9:00 a.m. – 1:30 p.m.
CONTACT INFORMATION:
Nancy M. McPherson, Planner
DHHL Planning Office
Phone: (808) 620-9519
[email protected]