Pūlehunui Regional Infrastructure Master Plan
PŪLEHUNUI REGIONAL INFRASTRUCTURE MASTER PLAN
Pūlehunui Regional Infrastructure Master Plan
The Department of Hawaiian Home Lands (DHHL) is leading an effort to develop a regional infrastructure master plan to serve certain State lands located along Maui Veterans Highway (formerly Mokulele Highway) in Central Maui. The regional infrastructure master planning effort is on behalf of four (4) State agency stakeholders: DHHL, Department of Land and Natural Resources, Department of Accounting and General Services, and the Department of Public Safety, and will serve the respective proposed developments of these agencies. The proposed regional planning effort will facilitate development in Pūlehunui in a manner that is financially and environmentally efficient, maximizing the use of State funds while minimizing environmental impacts to the extent practicable.
The DHHL owns two parcels of lands at Pūlehunui: Pūlehunui North (184 acres dedicated for commercial and light industrial uses by the Maui Island Plan), and Pūlehunui South (646 acres, of which approximately 100 acres are dedicated for light industrial uses and 546 acres for agricultural uses).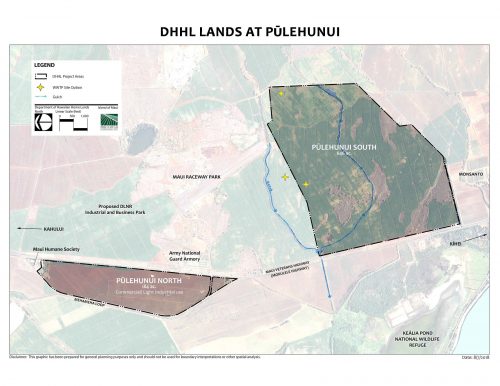 Environmental Impact Statement
An Environmental Impact Statement Preparation Notice (EISPN) was published on December 23, 2017, informing of the DHHL's intent to prepare an EIS for the proposed regional infrastructure master plan.
Currently, DHHL's project consultant, PBR Hawaii, is preparing the Draft EIS, which will be made available to various Federal, State, and County agencies, as well as the public, for review and comment. The Draft EIS will include an in-depth discussion on the proposed action, purpose, infrastructural system alternatives being considered, potential environmental impacts and proposed mitigation measures, and community outreach efforts. The Draft EIS will also include a number of technical studies which will inform the analysis of the document. Such studies will include a Preliminary Engineering and Drainage Report, Traffic Impact Analysis Report, Archaeological Inventory Survey, and Cultural Impact Analysis, among others.
EISPN
Click here to Review the EISPN
Hawaiian Homes Commission Briefing on Draft EIS
October 15-16, 2018

Puakukalo, Maui

Draft EIS (Review Period: Nov. 8, 2018 – Dec. 10, 2018)
Click to review Draft EIS
Hawaiian Homes Commission Briefing on Final EIS. HHC Recommendation to submit Final EIS to Governor for acceptance
May 20-21 2019 – Informational Brief: Waimea, Hawai`i

May 30, 2019 – Approval Puakukalo, Maui

OEQC Published Final EIS – June 23, 2019
Final EIS
Governor Acceptance of Final EIS
Final EIS Acceptance
Final EIS Challenge Period
Nov. 8, 2019 – Jan. 8, 2020
Community and Beneficiary Outreach
As with any project, DHHL values Beneficiary and community input on the proposed regional infrastructure master plan being proposed at Pūlehunui
Furthermore, in order to determine what level of infrastructure will be needed, DHHL has engaged Beneficiaries to gain input on the types of uses that are desired, and that would be possible and feasible on DHHL's two parcels at Pūlehunui. The lands at Pūlehunui present a unique opportunity to provide a wide range of uses due to their location midway between Kahului and Kīhei. Although in the past, it was indicated that homesteading uses were not desirable in this location due to the windy and dusty conditions, and the proximity to the highway, existing drag strip, and other agricultural uses, there has been a recent request to assess the feasibility of providing subsistence agriculture opportunities for Beneficiaries in this area.
Notification
Beneficiary Planning Charrettes Invitation
Meeting Schedule
Community EIS Scoping Meeting

January 18, 2018

Lihikai Elementary School, Kahului, Maui

6:00 p.m. to 8:00 p.m.

Beneficiary Planning Charrette #1

April 21, 2018

Maui High School, Kahului, Maui

8:30 a.m. to 11:30 a.m.

Beneficiary Planning Charrette #2

April 28, 2018

Maui High School, Kahului, Maui

8:30 a.m. to 11:30 a.m.

Beneficiary Follow-up Meeting

September 5, 2018

Maui High School, Kahului, Maui

6:00 p.m. to 8:00 p.m.

Presentation Materials
Beneficiary Planning Charrette #1

Beneficiary Planning Charrette #2

Beneficiary Follow-up Meeting

Notes/Findings
TBD
Contact Information
Malia Cox
DHHL Planning Office
Phone: (808) 620-9485
[email protected]
Selena Pang
PBR Hawaii
Phone: (808) 521-5631
[email protected]