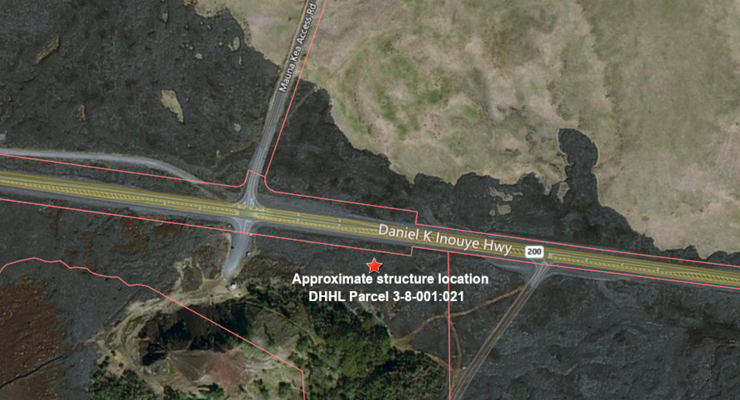 FOR IMMEDIATE RELEASE
September 3, 2019
Statement from Hawaiian Homes Commission Chairman on Mayor Harry Kim's Letter Regarding a Structure Near Kipuka Pu`u Huluhulu
(KAPOLEI, HI) – Hawaiian Homes Commission Chair William J. Aila, Jr. has issued the following statement regarding Hawai`i County Mayor Harry Kim's letter to the Department of Hawaiian Home Lands (DHHL) about a structure near Kipuka Pu`u Huluhulu.
"Law enforcement has notified protectors at Pu`u Huluhulu that the structure near Kipuka Pu`u Huluhulu is unpermitted. Unauthorized structures on all DHHL lands statewide are addressed in a consistent manner. Following a posted Notice To Vacate, DHHL will remove the structure as soon as resources become available. Abandoned or seized property is then held pursuant to section 171-31.5, Hawaii Revised Statutes. DHHL continues to prioritize the safety of all beneficiaries and the protection of the trust."
DHHL is providing the MOA referenced by Mayor Kim as well as the map showing the approximate location of the structure.
###
ABOUT THE DEPARTMENT OF HAWAIIAN HOME LANDS:
The Department of Hawaiian Home Lands carries out Prince Jonah Kūhiō Kalanianaʻole's vision of rehabilitating native Hawaiians by returning them to the land. Established by U.S. Congress in 1921, with the passage of the Hawaiian Homes Commission Act, the Hawaiian homesteading program run by DHHL includes management of over 200,000 acres of land statewide with the specific purpose of developing and delivering homesteading.
MEDIA CONTACT:
Cedric Duarte
Information and Community Relations Officer
Department of Hawaiian Home Lands
(808) 620-9501
[email protected]