*SCROLL DOWN FOR FULL MEETING SCHEDULE:
Honomu Subsistence Agricultural Homestead Community
DHHL's Administrative Rules were recently amended to include a Subsistence Agriculture Homestead Lease. The Department assessed its entire land inventory to identify a tract of land that would be most conducive to implementing this new type of homestead lease. Honomū was the area identified as having the attributes and characteristics that could best support successful subsistence agricultural activities.
The Department has invited the first 500 people on the Hawai'i Island agriculture wait list to participate in the process of developing a conceptual plan for the Honomū lands. This webpage will post informational materials as they are made available to the invited Subsistence Agricultural Applicants:

HONOMU PROJECT AREA MAP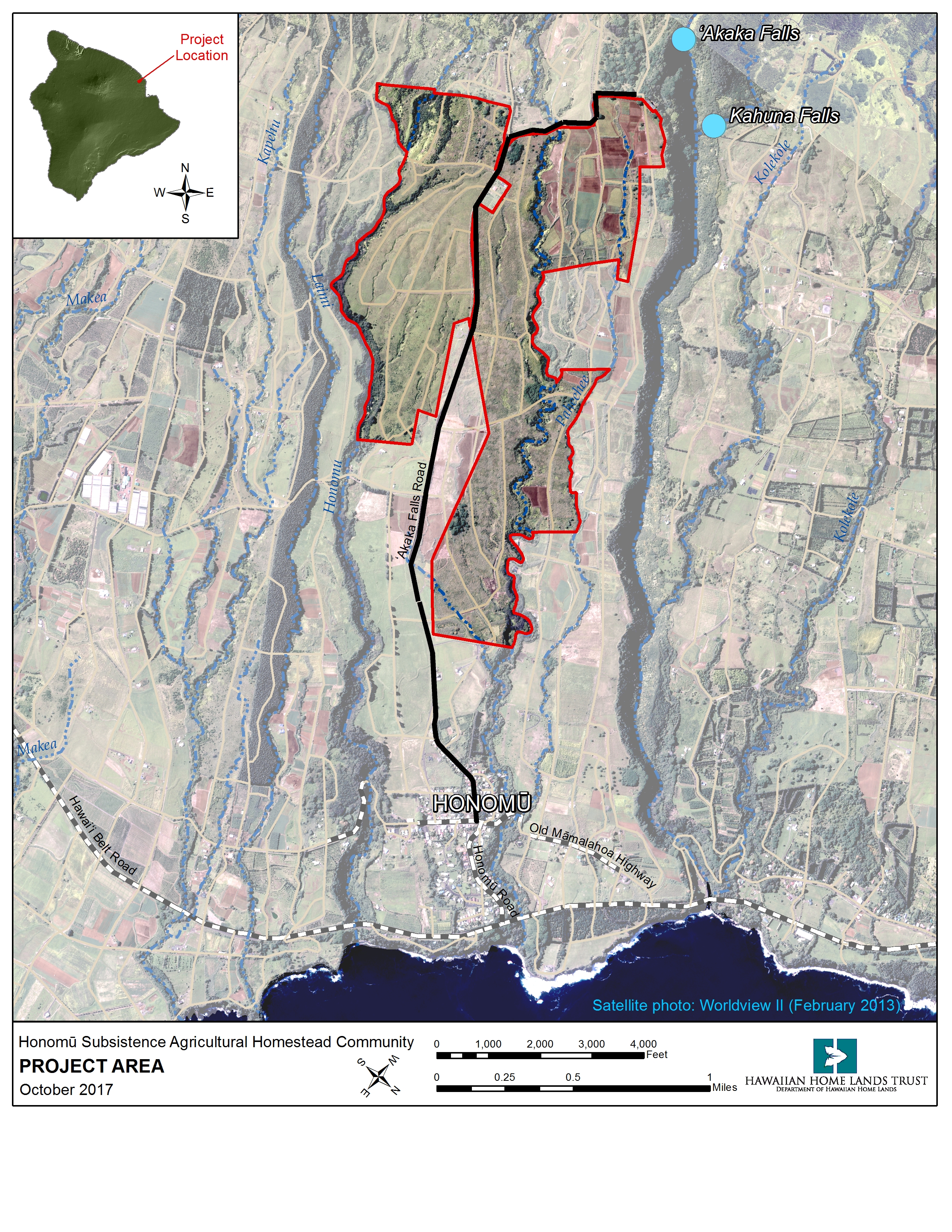 BENEFICIARY CONSULTATION
1
Proposed Action or Issue for Discussion
The Department has invited the first 500 people on the Hawai'i Island agriculture wait-list to participate in the process of developing a conceptual plan for the DHHL Honomū lands (766 acres). Once the plan is developed an environmental assessment will be completed based on the conceptual plan.
2
Notification
3
Meeting Schedule

Community Meeting #1
Hawaii Island (Honomu Gym)
Monday, October 23, 2017
7:00 p.m. – 9:00 p.m.

Beneficiary Meeting #1
Hawaii Island (Keaukaha Elementary School Cafeteria)
Tuesday, October 24, 2017
7:00 p.m. – 9:00 p.m.

Beneficiary Meeting #2
Hawaii Island (Keaukaha Elementary School Cafeteria)
Tuesday, March 27, 2018
6:00 p.m. – 8:00 p.m
Community Meeting #2
Hawaii Island (Honomu Gym)
Tuesday, March 28, 2018
6:00 p.m. – 8:00 p.m.

4
Presentation Materials
5
Background Information
6
Beneficiary Consultation Report: Meetings and Transcribed Notes
7
Review Period
TBD
8
Hawaiian Homes Commission Vote/Governor Approval
TBD
9
Final Version of Hawaii Administrative Rules Amendments 2018
TBD
Click on the following hyperlink for more information about the:
Honomu Subsistence Agricultural Homestead Community

CONTACT INFORMATION:
Julie-Ann Cachola
DHHL Planning Office
Phone: (808) 620-9480
[email protected]