Honomū Subsistence Agricultural Homestead Community
DHHL's Administrative Rules were amended in March 2017 to include a new Subsistence Agriculture Homestead Lease. The Subsistence Ag Homestead Lease is for smaller ag lots, not to exceed 3 acres. The Administrative Rules require Subsistence Ag Homestead lessees to cultivate their lots with plants and/or animals. Farm plans are not required; and the construction of a house and residence on the lot is optional.
The new Subsistence Ag Homestead Lease will be implemented for the first time in Honomū. Honomū was the area identified as having the attributes and characteristics that could best support successful subsistence agricultural activities.
HONOMŪ PROJECT AREA MAP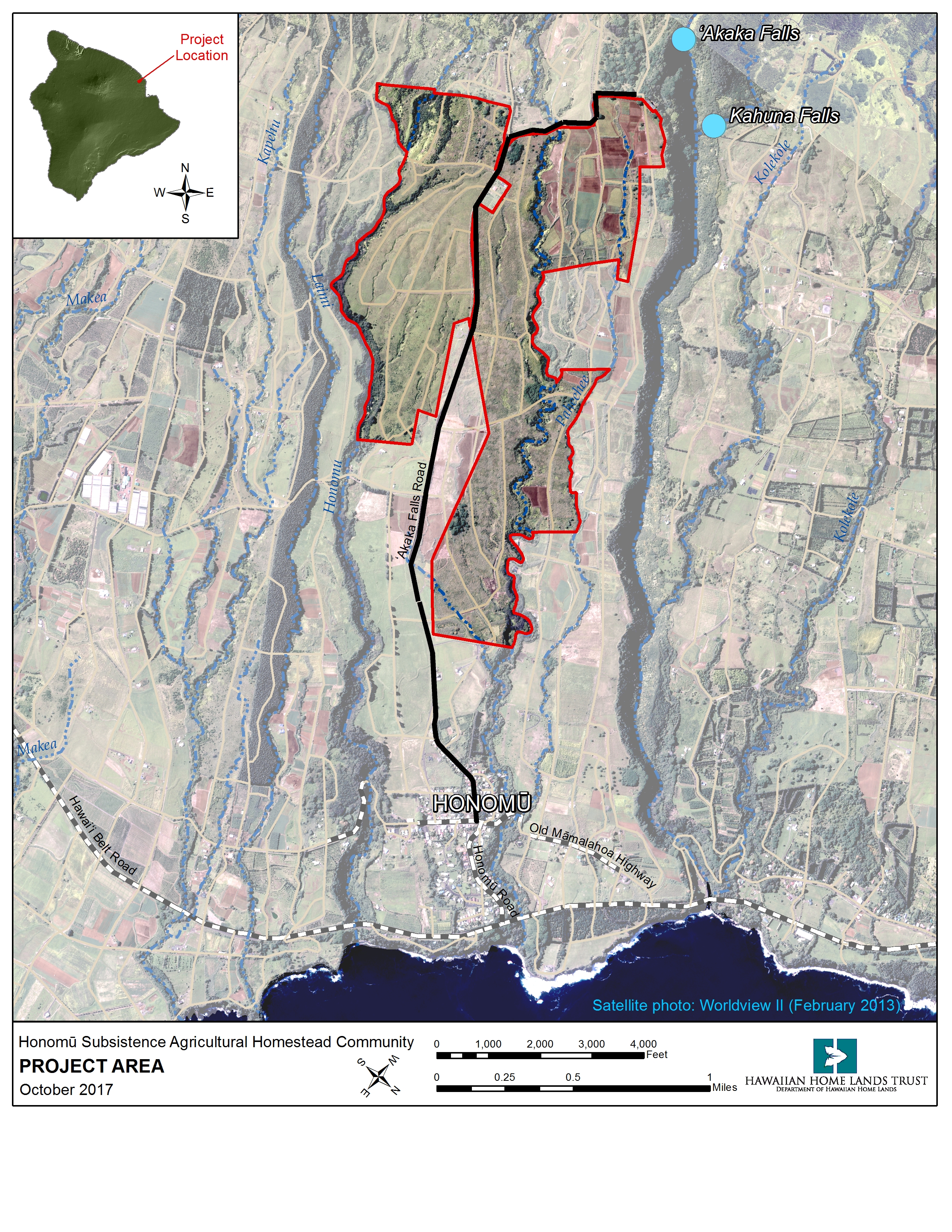 BENEFICIARY CONSULTATION
1
Proposed Action or Issue for Discussion
The Department has invited the first 500 people on the Hawai'i Island Agriculture Wait-list to participate in a series of meetings in order to develop a Conceptual Plan for a Subsistence Agricultural Homestead Community on DHHL's Honomū lands (766 acres). Once the plan is developed, an Environmental Assessment will be completed to identify and mitigate impacts generated by the proposed project
2
Notification
3
Meeting Presentations, Handouts and Meeting Notes
Hawaiian Homes Commission Meeting(s) October 2017:

Community Meeting #1
Honomū Gym
Monday, October 23, 2017
7:00 p.m. – 9:00 p.m.

Beneficiary Meeting #1
Keaukaha Elementary School Cafeteria

Tuesday, October 24, 2017
7:00 p.m. – 9:00 p.m.

Beneficiary Meeting #2
Keaukaha Elementary School Cafeteria
Tuesday, March 27, 2018
6:00 p.m. – 8:00 p.m.

Community Meeting #2
Honomū Gym
Tuesday, March 28, 2018
6:00 p.m. – 8:00 p.m.

Beneficiary and Community Meeting #3
Keaukaha Elementary School Cafeteria
Wednesday, October 24, 2018
5:30 p.m. Open House
6:00 p.m. – 8:00 p.m. Meeting
ADDITIONAL REFERENCES:
CONTACT INFORMATION:
Julie-Ann Cachola
DHHL Planning Office
Phone: (808) 620-9480
[email protected]