Public Comment on DHHL's Proposed New Administrative Rules
The Department of Hawaiian Home Lands is currently proposing two new sub-chapters for its Administrative Rules. These new sub-chapters would cover DHHL-owned Water Systems and would codify a Planning System. The proposals are intended to increase clarity and certainty in Department processes and functions. This is the second round of rule changes proposed by this administration. Rulemaking could take up to two years to complete.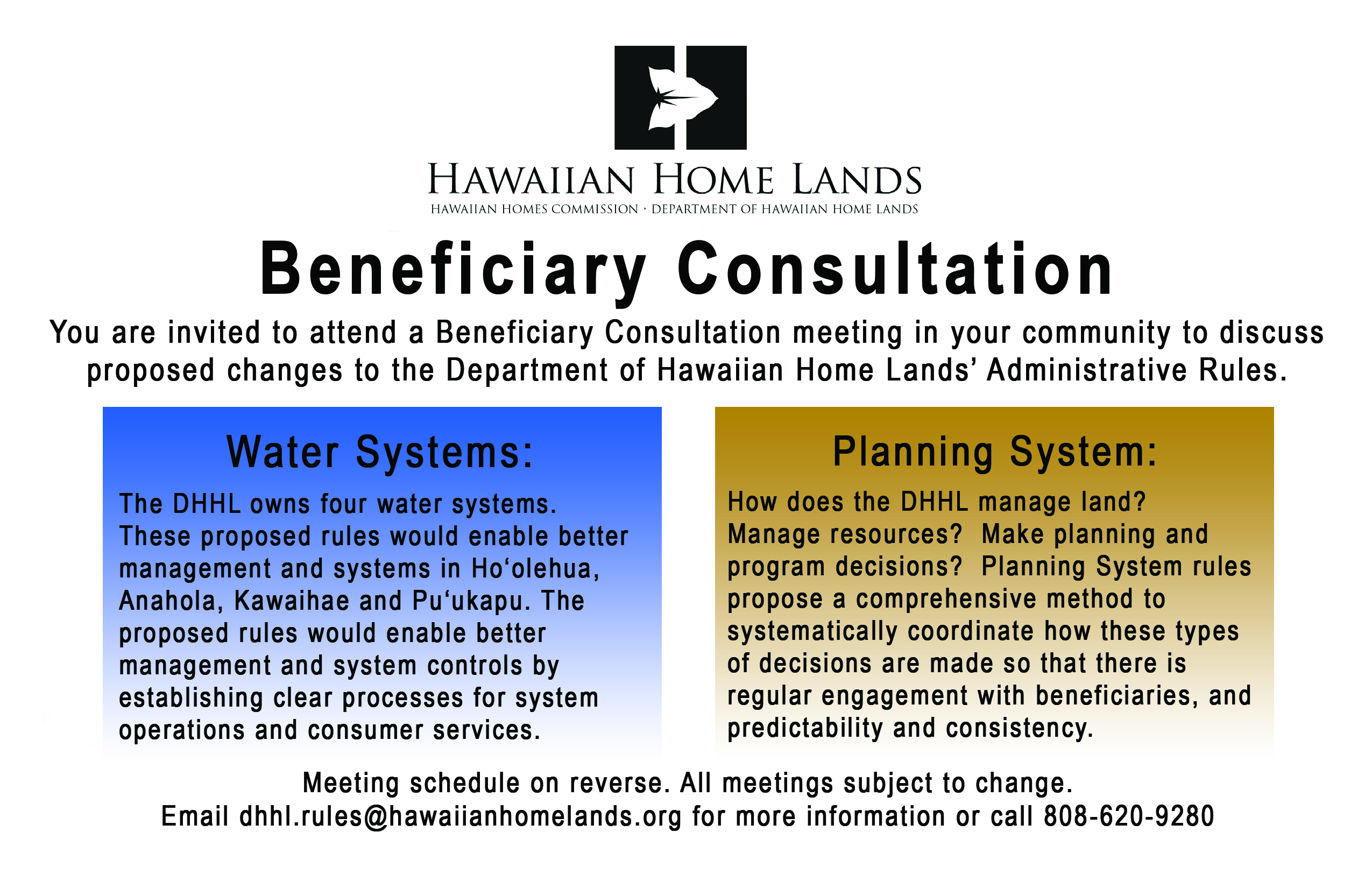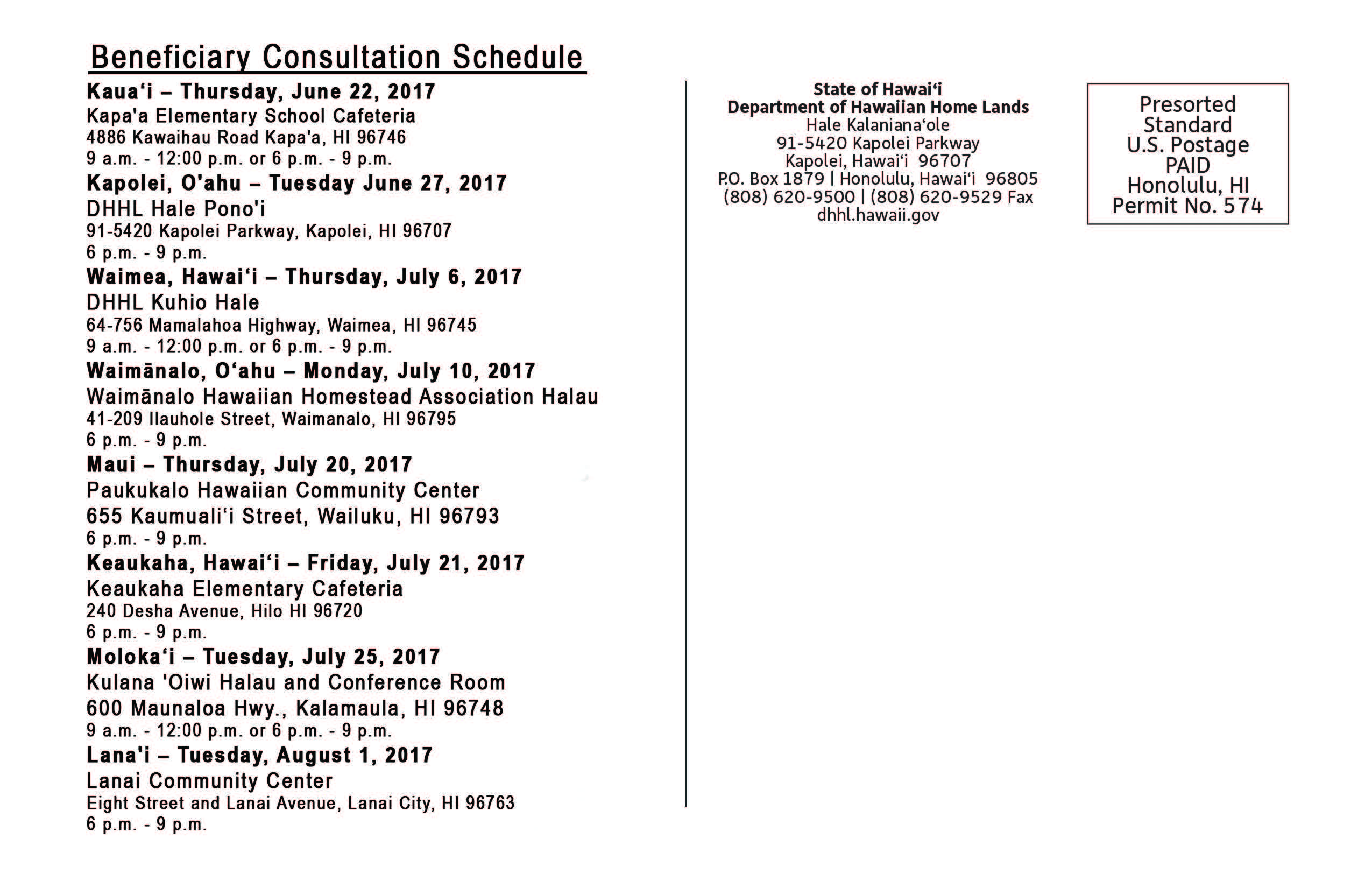 Please click here for a downloadable (PDF) version of the proposed Administrative Rule changes and the Beneficiary Consultation Schedule.
BENEFICIARY CONSULTATION
1
Proposed Action or Issue for Discussion
Update the current set of Hawaii Administrative Rules governing the Department of Hawaiian Home Lands.
2
Notification
TBD
3
Meeting Schedule

Kaua'i -Thursday, June 22, 2017
Kapa'a Elementary School Cafeteria
4886 Kawaihau Road
Kapa'a, HI 96746
9 a.m. – 12:00 p.m. or 6 p.m. – 9 p.m.

Kapolei, O'ahu- Tuesday, June 27, 2017
DHHL Hale Pono'i
91-5420 Kapolei Parkway,
Kapolei, HI 96707
6 p.m. – 9 p.m

Waimea, Hawai'i -Thursday, July 6, 2017
DHHL Kuhio Hale
64-756 Mamalahoa Highway
Waimea, HI 96745


9 a.m. – 12:00 p.m. or 6 p.m. – 9 p.m

Waimanalo, O'ahu- Monday, July 10, 2017
Waimanalo Hawaiian Homestead Association Halau
41-209llauhole Street,
Waimanalo, HI 96795


6 p.m. – 9 p.m.

Maui -Thursday, July 20, 2017
Paukukalo Hawaiian Community Center
655 Kaumuali'i Street, Wailuku, HI 96793


6 p.m. – 9 p.m.

Keaukaha, Hawai'i- Friday, July 21, 2017
Keaukaha Elementary Cafeteria
240 Desha Avenue, Hilo HI 96720
6 p.m. – 9 p.m.

Moloka'i -Tuesday, July 25, 2017
Kulana 'Oiwi Halau and Conference Room
600 Maunaloa Hwy., Kalamaula, HI 96748


9 a.m. – 12:00 p.m. or 6 p.m. – 9 p.m.

Lana'i – Tuesday, August 1, 2017
Lanai Community Center
Eight Street and Lanai Avenue
Lanai City, HI 96763


6 p.m. – 9 p.m

Moloka'i -Thursday, August 24, 2017*
Kulana 'Oiwi Halau and Conference Room
600 Maunaloa Hwy., Kalamaula, HI 96748
6 p.m. – 8 p.m.
*Additional session added

4
Presentation Materials
Beneficiary Consultation Meetings:
5
Background Information
Planning System:


Water Systems:

6
Meeting Notes
TBD
7
Review Period
TBD
8
Hawaiian Homes Commission Vote/Governor Approval
TBD
9
Final Version of Hawaii Administrative Rules Amendments 2017
TBD
CONTACT INFORMATION:
For more information, please contact:

COMMENT ON ADMINISTRATIVE RULES:
[wpforms id="13007″ description="true"]