Proposed Community-Based Renewable Energy Project at Kalaoa
Proposed Community-Based Renewable Energy Project at Kalaoa
Background Information: On August 31, 2020, DHHL posted a legal ad in statewide newspapers, requesting applications to develop renewable energy projects on DHHL lands. Four parcels of DHHL land were offered, including: one parcel on O'ahu; 1 parcel on Molokai, and 2 parcels on Hawai'i Island (Kawaihae and Kalaoa). The land identified in Kalaoa for renewable energy development is 100 acres of a 200-acre parcel (TMK (3) 7-3-010:007) located on the mauka side of the Queen Ka'ahumanu Highway, across the entrance to NELHA/HOST Park.
DHHL Lands in Kalaoa, North Kona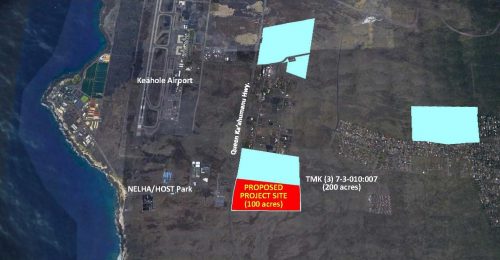 The 100-acre site offered at Kalaoa was designated for Industrial use in the 2002 Hawai'i Island Plan. In the 2020 Kealakehe-La'i 'Ōpua Regional Plan, beneficiaries identified the development of "Renewable Energy Initiative – PV Farm in 'O'oma (Kalaoa)" as a Priority Project. Specifically, the Regional Plan Priority Project supported the development of a PV Farm on DHHL lands at Kalaoa that were designated for commercial and industrial use. The PV project would participate in the Hawaiian Electric Company's (HECO's), competitive bidding process with the goal of securing a Power Purchase Agreement. The Priority Project would include partnerships with DHHL, and local partners within the North Kona region.
DHHL selected Nexamp, LLC to develop a PV solar, plus battery storage project at the Kalaoa site. DHHL will be conducting a Virtual Beneficiary Consultation meeting
Beneficiary Consultation:
1
Proposed Action or Issue for Discussion
Nexamp, LLC's proposed development of a Community Based Renewable Energy, Solar PV Plus Battery Storage project on a portion of TMK (3) 7-3-010:007 located in Kalaoa, North Kona.
2
Notification
3
Beneficiary Consultation Meeting

Virtual Beneficiary Consultation Meeting

Proposed Community-Based Renewable Energy Project at Kalaoa, North Kona

Tuesday, July 13, 2021

6:00 p.m. to 8:00 p.m.

The Purpose of the Consultation Meeting:

Provide information about DHHL's involvement in renewable energy
Explain Community Based Renewable Energy
Introduce Nexamp, LLC, a renewable energy developer selected by DHHL to develop a community-based renewable energy project at Kalaoa.
Hear what Nextamp, LLC is proposing at Kalaoa.
Find out how you can benefit from the project
Ask questions and provide comments

Recording of the Virtual Meeting:

4
Public Hearings
The Hawaiian Homes Commission is required to conduct two (2) public hearings to lease land to a renewable energy producer.

Kalaoa Renewable Energy Project Public Hearing #1

Monday, October 11, 2021 – 6:00 p.m.

Kalaoa Renewable Energy Project Public Hearing #2

Wednesday, October 13, 2021 – 8:30 a.m.

Hawaiian Homes Commission Meeting

Wednesday, October 13, 2021 – 1:30 p.m.

5
Decision-Making
The Hawaiian Homes Commission would make a decision on whether or not to approve a Right-of-Entry Agreement for Nexamp, LLC to conduct due diligence studies, and upon completion of their due diligence studies, including an Environmental Assessment pursuant to Chapter 343, HRS, the Right-of-Entry Agreement would end and a General Lease would begin.