King's Landing Kuleana Settlement Plan and Environmental Assessment
KING'S LANDING KULEANA SETTLEMENT PLAN AND ENVIRONMENTAL ASSESSMENT
INTRODUCTION
There's a lot of information on this webpage. If you don't want to read through everything, hold CTRL, point to the section you want in the Table of Contents below and click your mouse. To help you get to the section you want to review, just click on the section in the Table of Contents above.
TABLE OF CONTENTS
In 2022, DHHL's Planning Office contracted G70, a local planning firm, to develop a Kuleana Settlement Plan for King's Landing that is required by our Administrative Rules for Kuleana Leases; and to prepare an Environmental Assessment (EA) as required by Chapter 343, HRS for any development on Hawaiian Home Lands. This webpage will be used to provide information on the planning process, planning meetings, and presentations and other reports generated in the course of developing the Settlement Plan and EA.
For many years, beneficiaries have expressed a strong desire to pursue alternative settlement options and to have a role in helping to manage and preserve the natural and cultural resources of a given homestead area. Beneficiaries also requested for the Department to deliver homestead lots at a quicker rate by awarding raw, undeveloped land. A short summary of how the Kuleana Homestead Program came to be:
In 1987, the beneficiary homestead organization at King's Landing, Mālama Ka 'Āina, Hana Ka 'Āina (MAHA), took the initiative to develop a plan for "Subsistence Homesteads: A Community Management Plan for the Department of Hawaiian Home Lands, Keaukaha Tract II."
In 1992, a beneficiary homestead organization at Kahikinui, Ka 'Ohana o Kahikinui (KOOK), developed "A Conceptual Community Land Use Plan for the Ahupua'a of Kahikinui."
The two beneficiary-initiated proposals became the foundation for the Kuleana program, which would distribute raw, undeveloped lands as recommended in 1983 by the Federal-State Task Force on the Hawaiian Homes Commission Act.
In 1998, Administrative Rules (HAR §10-3-30) for the Kuleana Homestead Program was officially adopted as a homestead lease alternative.
In 1999, DHHL awarded Kuleana Homestead Leases to 75 applicants on the Maui Pastoral Waitlist for Kuleana homestead lots in Kahikinui, Maui.
THE KING'S LANDING KULEANA SETTLEMENT PLAN
The Administrative Rules for the Kuleana Homestead Program require DHHL to work with interested applicants to develop a Kuleana Settlement Plan. DHHL and G70 will work with the native Hawaiian beneficiary organization at King's Landing, "Mālama Ka 'Āina, Hana Ka 'Āina," to develop the Settlement Plan. The Rules specify that the Settlement Plan should include:
The location and description of the tract;
The approximate size and number of lots to be awarded;
The approximate location of a community center and common areas;
Preliminary conceptual proposals for community management and economic development of adjacent department lands, if applicable;
A plan for the identification, protection and preservation of all significant historical, archaeological, and biological sites; and
The settlement timetable to commence after the award of the lots.
DHHL's Keaukaha Tract II, also known as "King's Landing," is located on the border of Hilo and Puna in Keaukaha, in the ahupua'a of Waiākea, in the moku of Hilo on Hawai'i Island. The Hawaiian Homes Commission Act of 1921 included 2,000 acres, more or less, in Waiākea-Kai, or Keaukaha. The Keaukaha lands are divided into 2 tracts: Keaukaha Tract I which includes approximately 295 acres; and Keaukaha Tract II which includes approximately 1,323 acres of land (see Figure 1).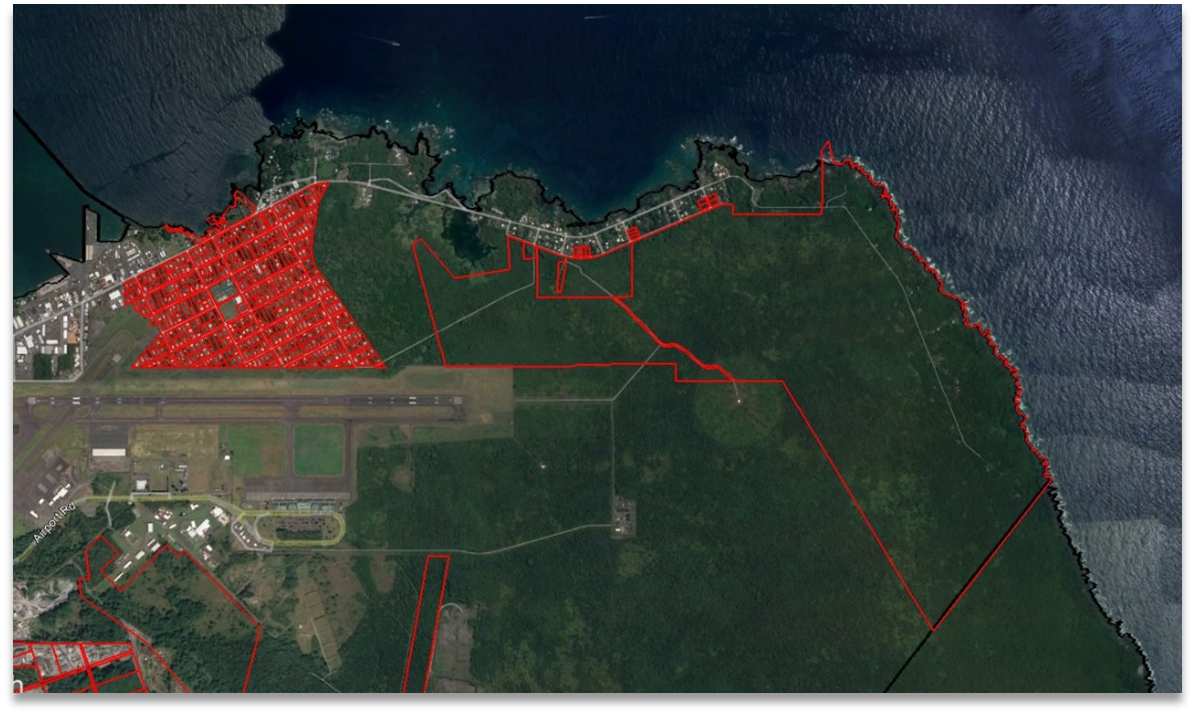 Figure 1: Keaukaha Tract I and II
The King's Landing Kuleana Homestead Settlement Plan focuses on Keaukaha Tract II comprised of approximately 1,323 acres of land, including TMKs (3) 2-1-013:001; 007: 008; and 149. Access to King's Landing is through Kalaniana'ole Street which turns into the Kapoho Coast Road near Lehia Beach Park. At Leleiwi Point, which is at the mid-point of the parcel, the King's Landing tract expands makai to include all the land from the shoreline inland (mauka) about 4,000 feet. Starting at Lehia Beach Park, the Kapoho Coast Road is a rugged dirt road that runs parallel to the coastline providing access to the makai lands by four-wheel drive vehicles . The King's Landing Tract ends at the Hilo-Puna District boundary (see Figure 2).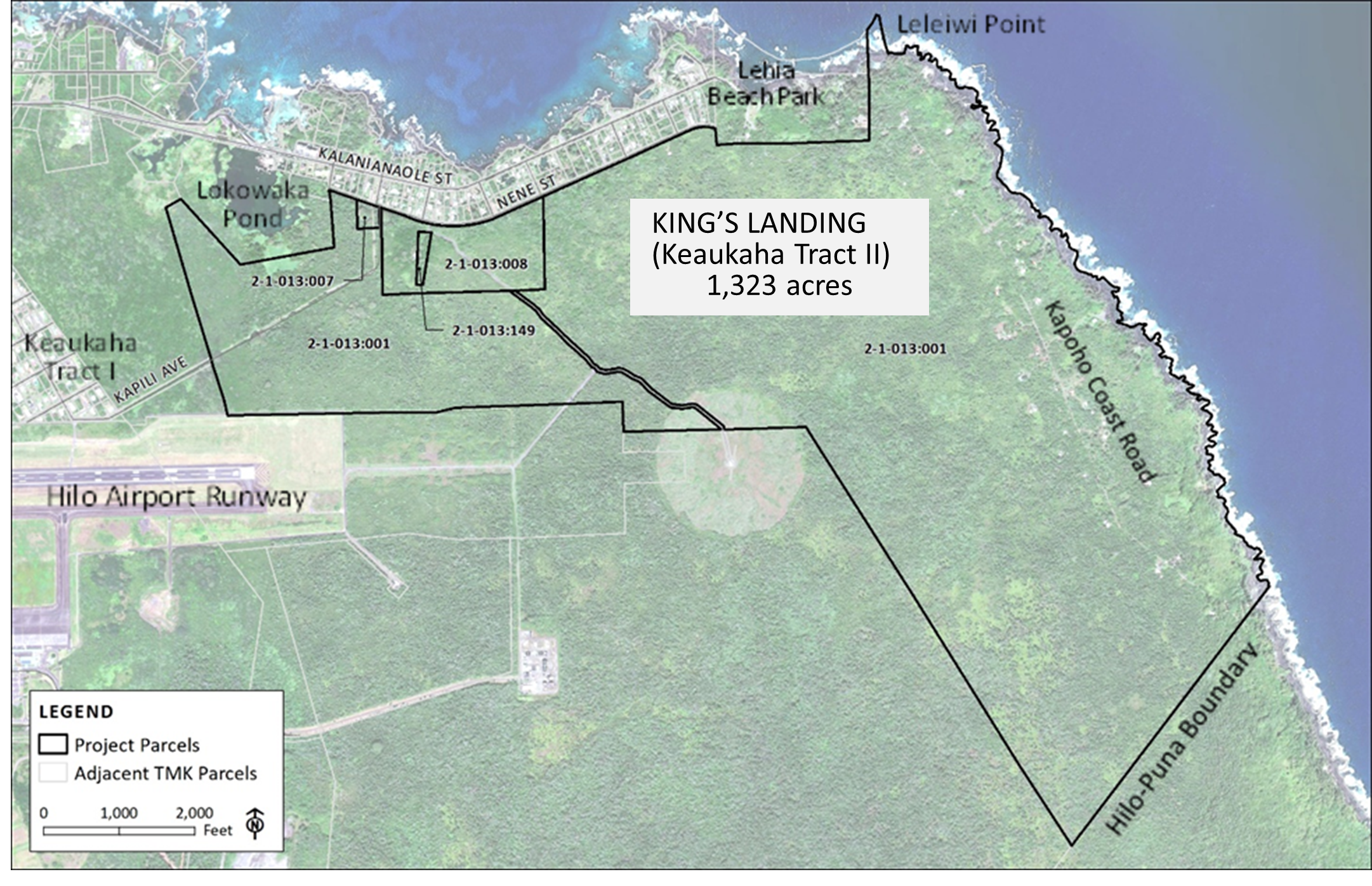 Figure 2: DHHL Lands at King's Landing (Keaukaha Tract II)
King's Landing is extremely rugged terrain. Closer to the shoreline, the landscape is dotted with anchialine ponds and unique and rich fauna and flora. In spite of rugged living conditions, several families have lived along the Kapoho Coast Road since they were given a Right-of-Entry permit by DHHL in 1984. These families have built their own homes; they have raised their families; planted gardens, raised animals and fished the resources of the ocean. They worked the land as individuals and they came together as a community to develop community projects. For nearly forty years, they raised generation after generation. Some of the original settler families are now raising their 5th generation at King's Landing.
MĀLAMA KA 'ĀINA, HANA KA 'ĀINA
Incorporated in 1987, Mālama ka ʻĀina, Hana ka ʻĀina (MAHA), is the community association established by the families living at King's Landing who agree and support MAHA principles, rules, and management practices. MAHA is the core group that has kept the community together during uncertain and trying times. In developing the Kuleana Settlement Plan, the Administrative Rules state that the Department must work with applicants who are interested in a Kuleana Homestead lease. MAHA is the group of interested applicants that the Department and the Department's planning consultant (G70) worked with to create the King's Landing Settlement Plan.
Through the Kuleana Homestead Settlement Plan and Environmental Assessment, beneficiaries will be able to secure Kuleana Homestead Leases which may then be transferred or passed on after death to the lessees successor(s).
THE PLANNING PROCESS AND PLANNING DOCUMENTS
The table below provides an outline of the planning sessions that were conducted to create the Settlement Plan and Environmental Assessment. The table documents the process over time. In addition, the table serves as a library of the documents and presentations that were used during each planning sessions and the reports that were generated as a result of those sessions. The last entry on the table will be the King's Landing Kuleana Settlement Plan and Final Environmental Assessment.
1
Background Materials
· MAHA's 1987 "Subsistence Homesteads a Community Management Plan for Department of Hawaiian Home Lands, Keaukaha Tract II."

· DHHL's Administrative Rules on the Kuleana Homestead Lease (HAR 10-3-30)

2
MAHA Planning Sessions
MAHA Planning Session #2: Community Mapping Session, March 11, 2023
Honuaiākea Meeting #1 and #2, December 8-9, 2022
MAHA Planning Session #1: Introduction and Planning Process, December 10, 2022
3
Hawaiian Homes Commission Meeting
Hawaiian Homes Commission Meeting Project Update:

· Item G-3– Update on King's Landing Kuleana Settlement Plan and Environmental Assessment Process, For Information Only, September 19, 2023

4
Settlement Plan
Information will be posted when available

· King's Landing Kuleana Homestead Settlement Plan – Draft for Review

· FINAL

5
Beneficiary Meeting
Beneficiary Meeting #1 (In-Person Only, No Virtual) –Tuesday, October 24, 2023, 6 p.m. – 7:30 p.m.

· Location: Keaukaha Elementary School, 240 Desha Avenue, Hilo, Hawaii 96720

· Meeting Invitation

· Presentation

· Meeting Notes

6
Environmental Assessment
Information will be posted when available

· DRAFT for review – 30-day comment period

· FINAL
THE PLANNING PROCESS AND SCHEDULE
The planning process will include the following planning activities starting in September 2022 and ending in April 2024.