Administrative Rules – Genetic Testing, Lease Transfer, Subsistence Lots
The Department of Hawaiian Home Lands is currently re-examining the Administrative Rules governing department operations, and proposing to remove, add, or modify these rules to meet the changing needs and priorities of our beneficiaries. The department plans to propose several rule changes throughout the course of this administration. Rulemaking could take up to two years to complete.
First Round of Proposed Rule Changes
The department is currently wrapping-up the first round of proposed rule changes related to the following three topics.
Genetic Testing: Proposes DHHL accept DNA tests to establish family ties in order to qualify for the Hawaiian Home Lands program.
Lease Transfer: Proposes a process and requirements for transferring a vacant homestead lot (i.e. a lot with no home or other improvements built upon the land).
Subsistence Lots: Proposes a new option in DHHLʻs agricultural program that supports a subsistence rural lifestyle.
From October 27, 2015 to December 10, 2015 the DHHL conducted statewide beneficiary consultation meetings to discuss with and get feedback from beneficiaries about the first round of proposed rule changes. In all, ten consultation meetings were held and over 700 beneficiaries attended. The format used at the consultation meetings was designed to solicit beneficiary input through facilitated conversation focusing on how the proposed amendments could be made better.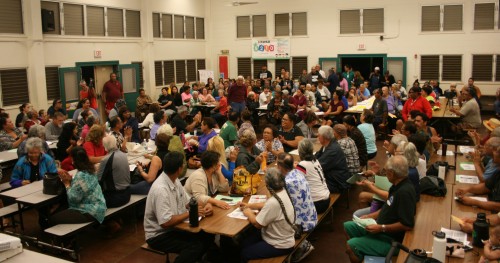 ---
CONTACT INFORMATION
For more information, please contact:
---
BENEFICIARY CONSULTATION
1
Proposed Action or Issue for Discussion
Update the current set of Hawaii Administrative Rules governing the Department of Hawaiian Home Lands.
2
Notification

Beneficiary Consultation Meeting with Lānaʻi Hawaiian Home Lands Beneficiaries, letter mailed October 13, 2015 to all Lānaʻi lessees and applicants.
Beneficiary Consultation Meetings with Hawaiian Home Lands Beneficiaries, postcard mailed October 19, 2015 to all lessees and applicants.
Public Hearings Notice, published in the Hawaii Tribune-Herald, West Hawaiʻi Today, Maui News, Honolulu Star-Advertiser, and Garden Island on Friday, November 4, 2016.

3
Meeting Schedule
Beneficiary Consultation Meeting Schedule – COMPLETED
All meetings scheduled to run from 6:00 – 8:30 p.m. but subject to change.

Lānaʻi – Tuesday, October 27, 2015
Lānaʻi High & Elementary School Cafeteria
555 Fraser Avenue, Lānaʻi City, HI 96763

Nānākuli, O'ahu – Monday, November 2, 2015
Nānāikapono Elementary School Cafeteria
89-153 Mano Ave., Wai'anae, HI 96792

Waimea, Hawai'i – Monday, November 9, 2015
DHHL West Hawai'i District Office – Kūhiō Hale
64-756 Māmalahoa Hwy., Kamuela, HI 96743

Keaukaha, Hawai'i – Tuesday, November 10, 2015
Keaukaha Elementary School Cafetorium
240 Desha Ave., Hilo, HI 96720

Kaua'i – Monday, November 23, 2015
King Kaumuali'i Elementary School Cafeteria
4380 Hanamā'ulu Rd., Līhu'e, HI 96766

Papakōlea, O'ahu – Tuesday, November 24, 2015
Stevenson Middle School Cafeteria
1202 Prospect St., Honolulu, HI 96822

Maui – Monday, November 30, 2015
Paukūkalo Community Center
655 Kaumuali'i St., Wailuku, HI 96793

Moloka'i – Tuesday, December 1, 2015
Lanikeha Community Center
2200 Farrington Hwy., Ho'olehua, HI 96729

Kapolei, O'ahu – Monday, December 7, 2015
DHHL Hale Ponoʻī
91-5420 Kapolei Pkwy., Kapolei, HI 96707

Waimānalo, O'ahu – Thursday, December 10, 2015
Blanche Pope Elemetnary School Cafeteria
41-133 Huli St., Waimānalo, HI 96795


Public Hearings Schedule – COMPLETED
All meetings scheduled to run from 6:00 – 7:00 p.m.

Monday, December 5, 2016
Hilo, Hawaii DHHL East Hawaii District Office, 160 Baker Ave., Hilo, HI 96720
Maui DHHL Maui District Office, 655 Kaumualii St., Wailuku, HI 96793
Oahu DHHL Main Office (Hale Ponoi), 91-5420 Kapolei Pkwy, Kapolei, HI 96707
Tuesday, December 6, 2016
Waimea, Hawaii DHHL West Hawaii District Office, 64-756 Mamalahoa Hwy, Kamuela, HI 96743
Molokai DHHL Molokai District Office, 600 Mauna Loa Hwy, Kaunakakai, HI 96748
Kauai King Kaumualii Elementary Cafeteria, 4380 Hanamaulu Rd., Lihue, HI 96766

3
Presentation Materials
4
Background Information

DHHL Presentations to the Hawaiian Homes Commission

Informational Workshop on Proposed Rules – Presented to the HHC on Monday, July 20, 2015, in Kapolei, Oʻahu
DHHL Requests HHC Approval of Rule Change Procedure – Presented to the HHC on Monday, July 20, 2015, in Kapolei, Oʻahu
DHHL Requests HHC Approval to Proceed with Beneficiary Consultation on Proposed Rules – Presented to the HHC on September 21, 2015, in Hilo, Hawaiʻi

Related to Proposed Rule on Subsistence Agricultural Lots

2014 DHHL Applicants Survey Report – Beneficiary study conducted every five years indicates agricultural applicants' preference for subsistence farming (pg. 7) as primary goal of agricultural lot use.

Hawaii Administrative Rules

5
Meeting Notes
6
Review Period
7
Hawaiian Homes Commission Vote/Governor Approval

Hawaiian Homes Commission voted to pass amendments for HAR Title 10 (February 21, 2017)
Governor David Y. Ige approved and signed HAR Title 10 Amendments in March of 2017

8
Final Version of Hawaii Administrative Rules Title 10 Amendments 2017