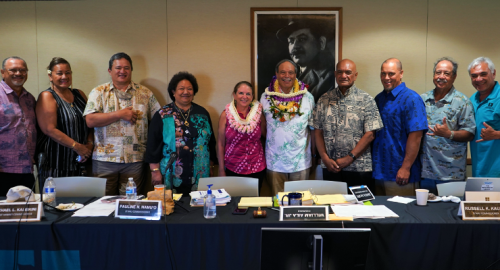 FOR IMMEDIATE RELEASE
June 23, 2022
Hawaiian Homes Commission Recognizes West Hawaiʻi Commissioner David Kaʻapu
(Kapolei, Oʻahu) – The Hawaiian Homes Commission adopted Resolution No. 306 honoring Commissioner David Kaʻapu's service to the beneficiary community at its Monday, June 20, 2022 regular meeting.
The West Hawaiʻi Island Commissioner has dedicated his time as a member of the HHC board since being appointed by former Governor Neil Abercrombie in June 2014. He has served the eight-year term limit for a HHC Commissioner and attended his last meeting in that capacity at the June meeting.
Commissioner Kaʻapu is a practicing attorney at law in Kailua-Kona, Hawaiʻi Island with an emphasis on quiet title, business law, wills and trusts, general litigation, and land use. He graduated from the University of Hawaiʻi with a BA in anthropology (Hawaiian archaeology) and received his JD from Santa Clara University in 1988.
"David Kaʻapu has provided exemplary service to beneficiaries of the Hawaiian Homes Commission Act," said Hawaiian Homes Commission Chair William J. Ailā, Jr. "He has been forthright in holding the DHHL staff, including myself, to a higher standard of service and I believe the Trust is better off today because of him."
To learn more about HHC, visit dhhl.hawaii.gov/hhc.
###
About the Department of Hawaiian Home Lands:
The Department of Hawaiian Home Lands carries out Prince Jonah Kūhiō Kalanianaʻole's vision of rehabilitating native Hawaiians by returning them to the land. Established by U.S. Congress in 1921, with the passage of the Hawaiian Homes Commission Act, the Hawaiian homesteading program run by DHHL includes management of over 200,000 acres of land statewide with the specific purpose of developing and delivering homesteading.
Media Contact:
Cedric Duarte
Information and Community Relations Officer
Department of Hawaiian Home Lands
(808) 620-9591
[email protected]