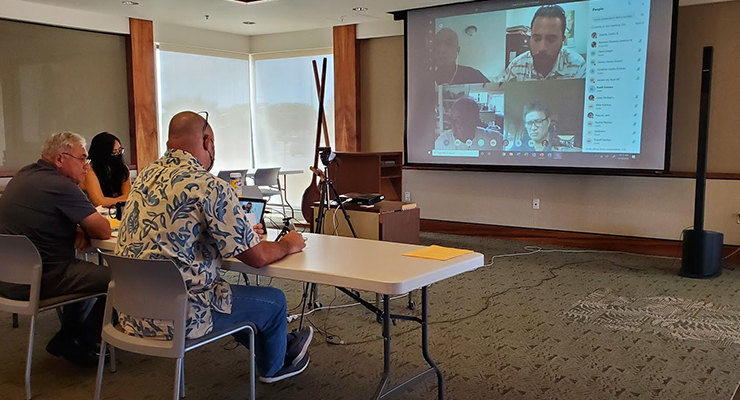 FOR IMMEDIATE RELEASE
June 15, 2020
Hawaiian Homes Commission Meeting to be Live Streamed
(Kapolei, Oʻahu) – The Department of Hawaiian Home Lands (DHHL) will live stream the Hawaiian Homes Commission's (HHC) June 2020 regularly scheduled meeting on Tuesday, June 16, 2020 at 9:30 a.m.
As a result of COVID-19, HHC board meetings have been hosted via video conferencing since April and will continue to be run as such for the immediate future. The live video of the meeting will be hosted on the Department's website: dhhl.hawaii.gov/live.
HHC Chairman William J. Aila, Jr. has emphasized the desire for the Commission to remain transparent and to provide beneficiaries and the public alike a viewable option as the community continues to adjust to the new realities of a post COVID-19 environment.
"The Commission and the Department are making our best efforts to have these meetings accessible to the public while the COVID-19 pandemic continues to impact us all," said HHC Chairman William J. Ailā, Jr. "While we are unable to have the public join the meetings, they may submit written comments through our website."
Under Governor David Ige's May 18, 2020 Supplementary Emergency Proclamation for COVID-19, Hawaiʻi Revised Statutes Chapter 92 regarding public agency, meetings, and records are currently suspended through June 30, 2020 to the extent necessary to enable boards to conduct business without holding meetings open to the public and to allow state agencies the ability to effectively and efficiently provide emergency relief and engage in emergency management functions.
An agenda and meeting packet is available through the Commission's webpage on the Department's website: dhhl.hawaii.gov/hhc. An audio recording and meeting minutes will be linked on the same webpage post-meeting.
Since the onset of the State's COVID-19 measures, HHC community meetings have been placed on hold.
To view the live stream, visit dhhl.hawaii.gov/live.
###
About the Department of Hawaiian Home Lands:
The Department of Hawaiian Home Lands carries out Prince Jonah Kūhiō Kalanianaʻole's vision of rehabilitating native Hawaiians by returning them to the land. Established by U.S. Congress in 1921, with the passage of the Hawaiian Homes Commission Act, the Hawaiian homesteading program run by DHHL includes management of over 200,000 acres of land statewide with the specific purpose of developing and delivering homesteading.
Media Contact:
Cedric Duarte
Information and Community Relations Officer
Department of Hawaiian Home Lands
(808) 620-9591
[email protected]