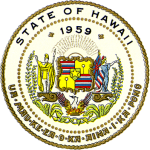 STATE OF HAWAIʻI
DEPARTMENT OF HAWAIIAN HOME LANDS
HAWAIIAN HOMES COMMISSION SPECIAL MEETING
Hale Ponoʻī, 91-5420 Kapolei Parkway, Kapolei, Oʻahu
November 9, 2012, 8:30 a.m.
ORDER OF BUSINESS
Roll Call
Approval of Agenda
B – PUBLIC TESTIMONY ON AGENDIZED ITEM
H – ADMINISTRATIVE SERVICE OFFICE
H-1 Department of Hawaiian Home Lands Biennium Budget Submission, FB 2013 – 2015
ANNOUNCEMENTS AND ADJOURNMENT
Next Meeting – November 19-20, 2012
Other Announcements
Adjournment
_________________________________
Jobie M.K. Masagatani, Chair Designate
Hawaiian Homes Commission
COMMISSION MEMBERS
Imaikalani P. Aiu, Kauaʻi
J. Kama Hopkins, Oʻahu
Perry O. Artates, Maui
Michael P. Kahikina, Oʻahu
Leimana DaMate, West Hawaiʻi
Ian B. Lee Loy, East Hawaiʻi
Gene Ross K. Davis, Molokaʻi
Renwick V.I. Tassill, Oʻahu
Community meeting will be held November 19, 2012, Waimānalo Community Center, 6:30 p.m.
Special Accommodations (such as sign language interpreter, large print, taped materials) can be provided, if requested at least five (5) working days before the scheduled meeting on the respective island by calling (808) 620-9590.