Water Policy Plan
Contact Form Shortcode Error: Invalid form number in shortcode.
The final Water Policy Plan 2014 as approved by the Hawaiian Homes Commission: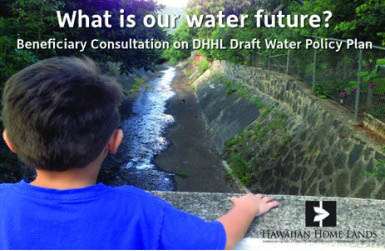 ---
DHHL WATER POLICY PLAN 2014 PROCESS: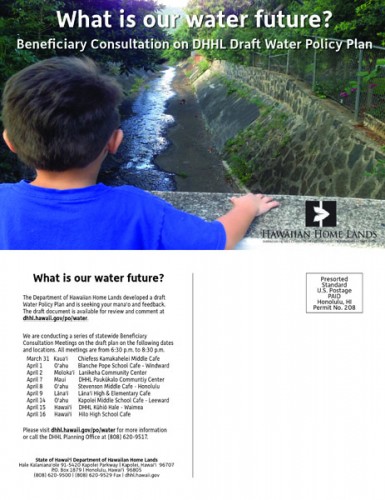 DHHL Draft Water Policy Plan Beneficiary Consultation
The Department of Hawaiian Home Lands developed a draft Water Policy Plan and is seeking your mana'o and feedback. The draft document is available for review and comment at dhhl.hawaii.gov/po/water.
We are conducting a series of statewide Beneficiary Consultation Meetings on the draft plan on the following dates and locations. All meetings are from 6:30 p.m. to 8:30 p.m.
Please visit dhhl.hawaii.gov/po/water for more information or call the DHHL Planning Office at (808) 620-9517.
---
DHHL Water Policy Plan Draft
Vision
Our vision is that there will be adequate amounts of water and supporting infrastructure so that homestead lands will always be usable and accessible, to enable us to return to our lands to fully support our self-sufficiency and self-determination in the administration of the Hawaiian Homes Commission Act (HHCA), and the preservation of our values, traditions, and culture.
Mission
In a manner consistent with our values, the Hawaiian Homes Commission (HHC) and Department of Hawaiian Home Lands (DHHL) shall strive to ensure the availability of adequate, quality water by working cooperatively to:
Understand our trust water assets;
Plan for our water needs;
Aggressively understand, exercise and assert our water rights;
Develop and protect water sources; and
Manage water systems.
Submit DHHL Water Policy Plan Comments
Review period for Draft Plan begins Feb. 19, 2014
Deadline for comments is May 16, 2014
Email comments to dhhl.planning@hawaii.gov
Mail comments to:

DHHL Planning Office
P.O. Box 1879
Honolulu, Hawaii 96805

Phone: DHHL Planning Office (808) 620-9480
Feedback web form: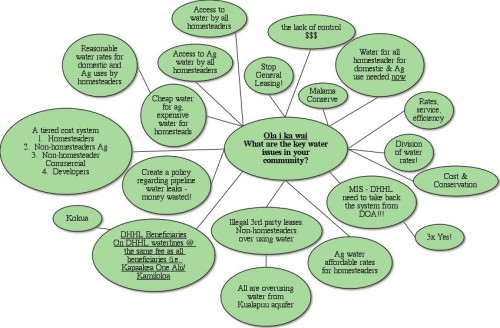 Moloka'i OIKW Converstation Map.[/caption]
EMIKW = E Malama I Ka Wai
OIKW = Ola I Ka Wai
HKKK = He Kuleana Ko Kakou
Meeting Notes, Broad Sheets and Letters
Oct. 23    O'ahu    Stevenson Middle School Cafeteria
Oct. 30    Kaua'i    Chiefess Kamakahelei Middle Sch. Cafeteria
Nov. 4    Moloka'i    Lanikeha Community Center
Nov. 5    O'ahu    Kapolei Middle School Cafeteria
Nov. 6    O'ahu    Blanche Pope Elementary Cafeteria
Nov. 7    Lāna'i    Lāna'i Elementary & High Cafeteria
Nov. 12    Hawai'i    DHHL Kūhiō Hale – Waimea
Nov. 13    Hawai'i    Hilo High School Cafeteria
Nov. 14    Maui    DHHL Paukūkalo Community Center
For more information, please visit dhhl.hawaii.gov/po/water or call (808) 620-9517.