Honokōwai Master Plan and Environmental Review
Honokōwai Homestead Community – Master Plan and Environmental Review
The Department of Hawaiian Home Lands (DHHL) is developing a land-use plan and seeking environmental approvals for an agriculture homestead community on approximately 800 acres of land at Honokōwai within the Ka'anapali Moku on Maui. The purpose of the project is to develop a master plan of these lands with a focus on providing agriculture homesteading opportunities to DHHL's Maui Island Waiting List beneficiaries.
DHHL's Administrative Rules were amended in March 2017 to include a new smaller Agriculture Homestead Lease. This Subsistence Agriculture Homestead Lease provides space for a small family farm, not to exceed three acres. The Administrative Rules require lessees of these smaller subsistence agriculture homestead lots to cultivate their lots with plants and/or animals. A Farm Plan and cultivation of at least two-thirds of the usable acreage of the lot are not required for Subsistence Agriculture Homestead Leases. Construction of a house and residence on the lot is optional.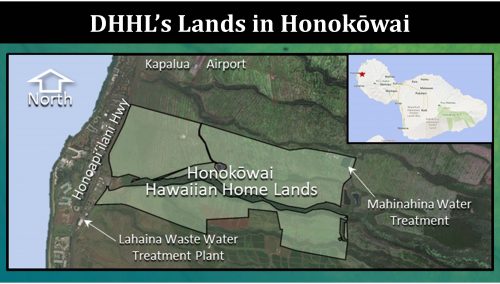 County of Maui Issue and Opportunities Related to Honokōwai
Upcoming Meeting:
Honokōwai Homestead Community Master Plan Beneficiary Informational Meeting – November 8, 2021, 6 p.m. to 8 p.m.
Project Schedule and Environmental Review Documents
Timeframe
Honokōwai Action
September 25, 2019
Beneficiary Planning Meeting #1
October 2019
Request for Pre-assessment consultation information
October 2019 – March 2020
Data collection and preparation of technical studies for Master plan concepts.
February 26, 2020
Beneficiary Planning Meeting #2
November 12, 2020
Beneficiary Planning Meeting #3

Selection of Preferred Master Plan (MP) Alternative

June 2021
Presentation of the DHHL Honokōwai Master Plan Draft Environmental Assessment (EA) to the Hawaiian Homes Commission (HHC)
July 2021
Publication of the DHHL Honokōwai Master Plan Draft Environmental Assessment EA in The Environmental Notice (July 8, 2021)
July 2021 – August 2021
Public comment period on the Draft EA

PUBLIC COMMENT PERIOD BEGINS: JULY 8, 2021

DEADLINE FOR PUBLIC COMMENTS: AUGUST 9, 2021

August 2021 – September 2021
Respond to comments received and revise the Draft EA.
November 8, 2021
Honokōwai Homestead Community Master Plan Beneficiary Informational Meeting – 6 p.m. to 8 p.m.
January 2022
Presentation of Final EA to the HHC for Approval and Finding of No Significant Impact (G-1)
February 2022
Final Environmental Assessment