Proposed Community-Based Renewable Energy Project in Kawaihae
Proposed Community-Based Renewable Energy Project in Kawaihae
Background Information: On August 31, 2020, DHHL posted a legal ad in statewide newspapers, requesting applications to develop renewable energy projects on DHHL lands. Four parcels of DHHL land were offered, including one parcel on O'ahu, one parcel on Molokai; and two parcels on Hawai'i Island (Kawaihae and North Kona). The parcel identified in Kawaihae for renewable energy development is a 21-acre parcel (TMK (3) 6-1-006:003) located on the mauka side of Akoni Pule Highway, where Kaewa Place intersects Akoni Pule Highway, south of the industrial area. The 21-acre parcel was designated for Commercial use in DHHL's 2002 Hawai'i Island Plan.
DHHL Land in Kawaihae, Makai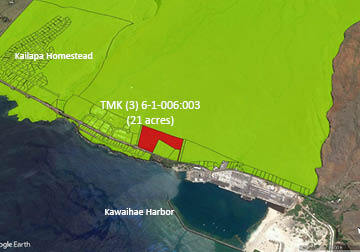 Beneficiary Consultation:
1
Proposed Action or Issue for Discussion
DHHL received an application from Nexamp, LLC to develop a 3.9 Megawatt PV Solar Plus Battery Storage project at the Kawaihae site.
2
Notification
3
Beneficiary Consultation Meeting

Virtual Beneficiary Consultation Meeting #1

Dec. 8, 2020

Meeting Purpose:

Provide information about the renewable energy solicitation
Explain Community Based Renewable Energy
Explain why here? Why now?
Explain the potential benefits.
Explain the process, should a project be selected
Solicit input on community benefits.

Virtual Beneficiary Consultation Meeting #2

Monday, July 26, 2021

6:00 p.m. to 8:00 p.m.

Meeting Purpose:

Provide information about DHHL's involvement in renewable energy
Explain Community Based Renewable Energy
Introduce Nexamp, LLC, a renewable energy developer selected by DHHL to develop a community-based renewable energy project at Kawaihae.
Hear what Nextamp, LLC is proposing at Kawaihae.
Find out how you can benefit from the project
Ask questions and provide comments

Meeting Materials:

Beneficiaries may send their questions, comments, and concerns:

By email to: [email protected]
By mail to:

DHHL Planning Office, P.O. Box 1879, Honolulu, HI 96805

**If we receive your comments by the August 26, 2021 comment deadline, they will be included in the staff's beneficiary consultation report to the Hawaiian Homes Commission for use in their decision-making on the proposed renewable energy project.

4
Public Hearings
The Hawaiian Homes Commission is required to conduct two (2) public hearings to lease land to a renewable energy producer.

Kawaihae Renewable Energy Project Public Hearing #1

October 12, 2021 – 6:00 p.m.

Kawaihae Renewable Energy Project Public Hearing #2

October 13, 2021 – 11 a.m.

Hawaiian Homes Commission Meeting

Wednesday, October 13, 2021 – 1:30 p.m.

5
Decision-Making
The Hawaiian Homes Commission would make a decision on whether or not to approve a Right-of-Entry Agreement for Nexamp, LLC to conduct due diligence studies, and upon completion of their due diligence studies, including an Environmental Assessment pursuant to Chapter 343, HRS, the Right-of-Entry Agreement would end and a General Lease would begin.