DHHL Administrative Rules – DCCR's, Multi-Family, Rentals, Kupuna Housing and Supplemental Dwelling Units
The Department of Hawaiian Home Lands is proposing to add Administrative Rules for
Declaration of Conditions, Covenants, and Restrictions Communities (DCCR);
Multi-family, Rentals, and Kupuna Housing; and
Supplemental Dwelling Units.
The proposals are intended to increase the housing options available to beneficiaries of the Hawaiian Homes Commission Act and to improve certainty in Department processes. This is the third round of rule changes proposed by this administration. Rulemaking could take up to two years to complete.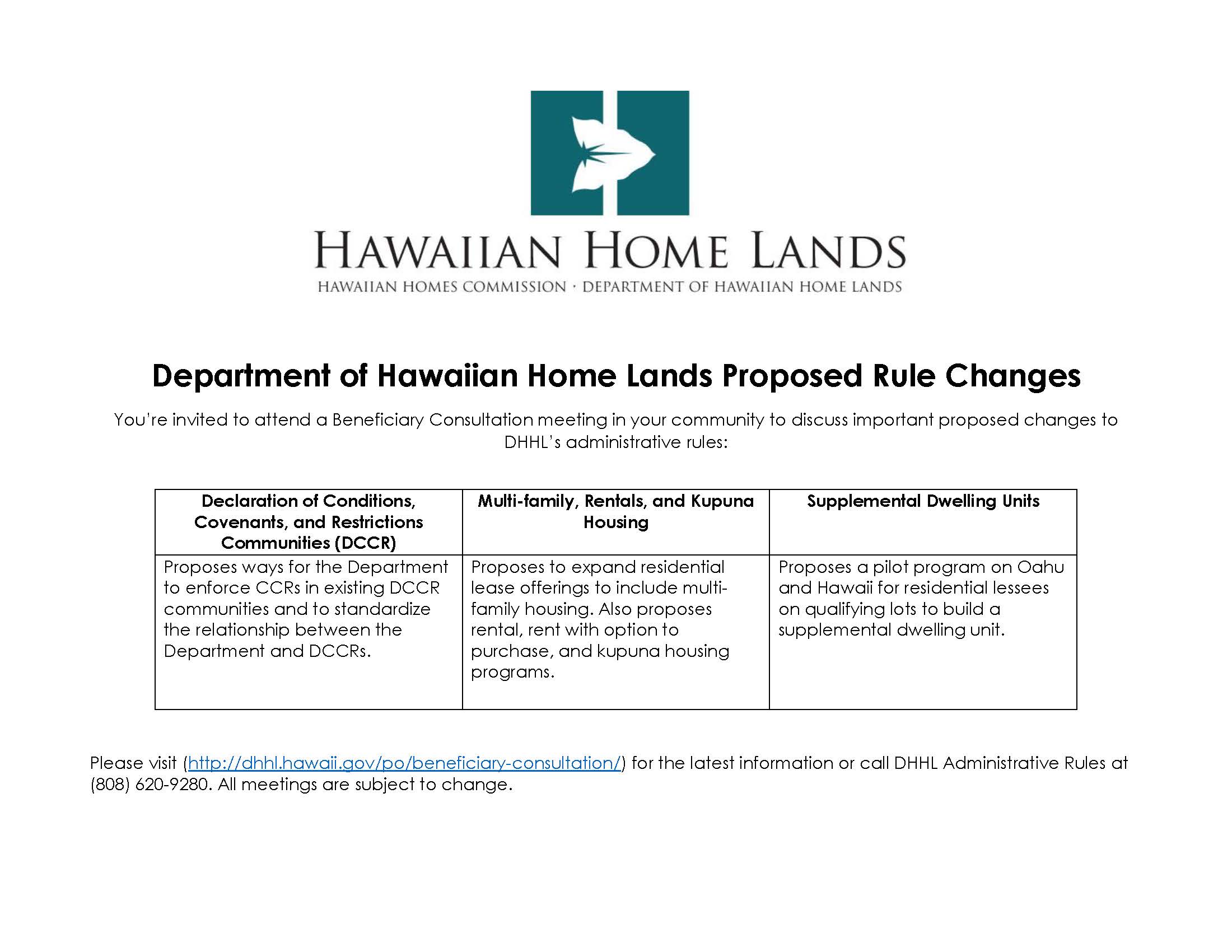 Please click here for a downloadable (PDF) version of the flyer posted above.
BENEFICIARY CONSULTATIONS
1
Proposed Action or Issue for Discussion
Update the current set of Hawaii Administrative Rules governing the Department of Hawaiian Home Lands.
2
Notification
Meeting Agenda:
3
Meeting Schedule

Molokai – Monday, April 30, 2018
DHHL Molokai Office – Kulana 'Oiwi Halau
600 Maunaloa Highway
Kalamaula, Hawaii 96748
6 p.m. – 9 p.m.
Kauai – Monday, May 7, 2018
King Kaumualii Elementary School Cafeteria
4380 Hanamaulu Road
Lihue, Hawaii 96766
6 p.m. – 9 p.m.

Paukukalo, Maui – Monday, May 21, 2018
Paukukalo Community Center
655 Kaumualii Street
Wailuku, Maui 96793
6 p.m. – 9 p.m.

Lahaina, Maui -Tuesday, June 5, 2018


Lahaina Civic Center


1840 Honoapiilani Highway
Lahaina, Hawaii 96761
6 p.m. – 9 p.m.

Keaukaha, Hawai'i- Monday, June 25, 2018
Keaukaha Elementary School Cafeteria
240 Desha Avenue
Hilo, Hawaii 96720
6 p.m. – 9 p.m.
West Hawaii, Kailua, Kona – Monday, July 9, 2018
West Hawaii Civic Center
74-5044 Ane Keohokalole Highway
Kailua-Kona, Hawaii 96740
6 p.m. – 9 p.m.

Honolulu, O'ahu – Monday, July 23, 2018
Robert Louis Stevenson Middle School
1202 Prospect Street
Honolulu, Hawaii 96822
6 p.m. – 9 p.m.

Kapolei, O'ahu – Monday, July 30, 2018
DHHL Hale Pono'i
91-5420 Kapolei Parkway,
Kapolei, Hawaii 96707
6 p.m. – 9 p.m

4
Presentation Materials
Beneficiary Consultation Meetings:
5
Background Information

DCCR Rules

:

Multi Family, Rentals, Kupuna Housing Rules:

Supplemental Dwelling Units:

6
Beneficiary Consultation Report: Meetings and Transcribed Notes
Oct 2018 Beneficiary Consultation Report
7
Review Period
Notice of Public Hearing for DCCR Multi Rentals

STATE OF HAWAII
DEPARTMENT OF HAWAIIAN HOME LANDS
NOTICE OF PUBLIC HEARING ON PROPOSED AMENDMENTS
TO TITLE 10, HAWAII ADMINISTRATIVE RULES
The Department of Hawaiian Home Lands (DHHL) will hold a public hearing on Oahu, Maui,
Hawaii Island, and Kauai for Hawaii Administrative Rules (HAR) amendments. The proposed
amendments to Title 10, HAR, DHHL, would adopt administrative rules related to the method of disposition, as well as the terms, conditions, covenants, and restrictions as to the use and
occupancy of single family and multi-family units including rentals in a new HAR chapter 10-7
entitled, planned communities, multi-family complexes, and rental housing. The proposed rules
create processes through which the Hawaiian Homes Commission and DHHL can develop, manage,
and enforce provisions for planned communities, multi-family complexes, and rental housing
developed on Hawaiian Home Lands. An informational briefing will be held immediately before the
public hearing.

Date: Wednesday, February 27, 2019
Location: DHHL Main Office (Hale Ponoi), 91-5420 Kapolei Pkwy, Kapolei, HI 96707
Time: Informational briefing: 6:00 p.m. – 6:30 p.m.
Public hearing: 6:30 p.m. – 7:30 p.m.

Date: Wednesday, March 6, 2019
Location: West Hawaii Civic Center, 74-5044 Ane Keohokalole Hwy, Kailua-Kona, HI 96740
Time: Informational briefing: 6:00 p.m. – 6:30 p.m.
Public hearing: 6:30 p.m. – 7:30 p.m.

Date: Monday, March 11, 2019
Location: Paukukalo Community Center, 655 Kaumualii St, Wailuku, HI 96793
Time: Informational briefing: 6:00 p.m. – 6:30 p.m.
Public hearing: 6:30 p.m. – 7:30 p.m.

Date: Wednesday, March 13, 2019
Location: King Kaumualii Elementary School Cafeteria, 4380 Hanamaulu Rd, Lihue, HI 96766
Time: Informational briefing: 6:00 p.m. – 6:30 p.m.
Public hearing: 6:30 p.m. – 7:30 p.m.

All interested persons are urged to attend the public hearing to present relevant
information and individual opinion for the DHHL to consider. Any person may file written
comments or recommendations in support of or in opposition to the proposed rulemaking in
person at the public hearing or by mail postmarked by March 20, 2019. Written testimony should
be mailed to: ATTN: Administrative Rules, Department of Hawaiian Home Lands, P.O. Box 1879,
Honolulu, HI 96805.

The Hawaiian Homes Commission shall take final action on this rulemaking at a future
regularly scheduled commission meeting.

The proposed rule amendments are currently available for review through March 20, 2019
between the hours of 8:00 a.m. and 4:00 p.m. Monday through Friday at the DHHL Main Office in
Kapolei, Oahu (address listed above) and at any DHHL District Office: East Hawaii: 160 Baker Ave.,
Hilo, HI 96720; West Hawaii: 64-756 Mamalahoa Hwy, Kamuela, HI 96743; Maui: 655 Kaumualii St.,
Wailuku, HI 96793; Molokai: 600 Mauna Loa Hwy, Kaunakakai, HI 96748; Kauai: 3060 Eiwa St, Rm
203, Lihue, HI 96766. A copy of the proposed rule amendments will be mailed to any person who
requests a copy in writing. The request must state the requestor's name and mailing address, and
be delivered to the DHHL Main Office, P.O. Box 1879, Honolulu, HI 96805. For more information,
email [email protected] or call (808) 620-9280. A copy of the proposed rule
amendments is also available online: https://dhhl.hawaii.gov/hhc/hawaii-administrative-rules/.
To request a sign language interpreter or disabled parking at the public hearing, please
contact the DHHL Information and Community Relations Office on Oahu at 808-620-9590 at least
seven days in advance of the public hearing.

Jobie M. K. Masagatani, Chairman
Hawaiian Homes Commission
January 27, 2019

8
Hawaiian Homes Commission Vote/Governor Approval
9
Final Version of Hawaii Administrative Rules Amendments 2017
Chapter 10-7, Planned Communities, Multi-Family Complexes, and Rental Housing
CONTACT INFORMATION:
For more information, please contact:

COMMENT ON ADMINISTRATIVE RULES:
[wpforms id="13007″ description="true"]