Administrative Rules for General Leases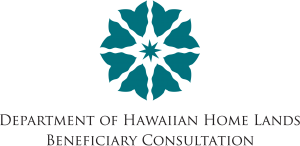 The Department of Hawaiian Home Lands is conducting a series of beneficiary consultation meetings statewide on proposed amendments to its Administrative Rules. This consultation is limited to proposed rules that will implement Section 228 of the Hawaiian Homes Commission Act which authorizes DHHL to extend the term of a general lease (non-homestead use) to a maximum of 85 years for commercial or multipurpose projects. Currently, 1.3% of Hawaiian home lands are under a general lease, and these lands generate about $10.17 million each year for DHHL.
These meetings are intended to inform DHHL applicants and lessees of these proposed rule changes and to receive input from beneficiaries. In addition, beneficiaries have 30 days (until September 30, 2013) after these meetings to provide further comments and feedback. The feedback to DHHL will be compiled and reported to the Hawaiian Homes Commission at a future date in preparation for the formal rulemaking process, which is expected to begin later this year. At this time, beneficiaries along with the general public will have an opportunity to comment during the upcoming public hearings.
The proposed amendments and details about the location of the hearings and how you can submit comments are posted on our website (dhhl.hawaii.gov). If you are interested in learning more about this issue, or you have feedback for us, we encourage you to attend the meeting nearest to you. Please call (808) 620-9591 with any questions.
Here is the schedule of initial meetings:
August 21 – Kapolei
DHHL Hale Ponoi
91-5420 Kapolei Parkway
6:00-8:00 p.m.
August 26 – Waimanalo
Waimanalo Community Center
41-253 Ilauhole Street
6:00-8:00 p.m.
August 26 – Maui
Paukukalo Community Center
655 Kaumualii Street
6:00-8:00 p.m.
August 27 – Papakolea
Papakolea Community Center
2150 Tantalus Drive
6:00-8:00 p.m.
August 27 – East Hawaii
Waiakea High School Cafeteria
155 W. Kawili Street
5:30-7:30 p.m.
August 28 – West Hawaii
DHHL West Hawaii District Office
64-756 Mamalahoa Highway
5:30-7:30 p.m.
August 28 – Molokai
Kulana Oiwi
600 Maunaloa Highway
4:30-6:30 p.m.
August 29 – Kauai
Kapaa Elementary School Cafeteria
4886 Kawaihau Road
6:00-8:00 p.m.
SUPPORTING MATERIALS
PRESENTATION MATERIALS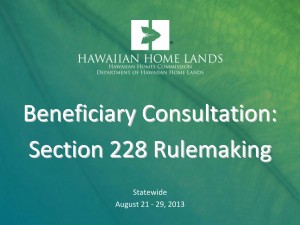 LEAVE YOUR FEEDBACK
Review period begins August 21, 2013
Deadline for comments is September 30, 2013
Email comments to

[email protected]

Mail comments to:

DHHL Land Management Division
P.O. Box 1879
Honolulu, Hawaii 96805

Phone: DHHL Land Management Division, (808) 620-9450
DRAFT SECTION 228 ADMINISTRATIVE RULES

Summary of Comments
Staff Analysis and Recommendations
HHC Workshop  October 28, 2013
FINAL SECTION 228 ADMINISTRATIVE RULES

Staff Submittal
HHC Action TBD
HHC Meeting Minutes