NAHASDA Success Story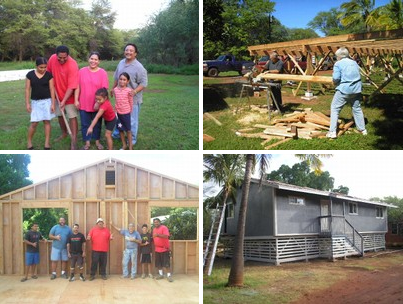 NAHASDA Success Story:
Nakihei Family, Molokai Habitat for Humanity
Brent Nakihei was raised in his grandmother's Kalamaula home and in 1995 he and his new family returned to the home to raise their children. The home, originally built in 1966, was in grave disrepair. Since Brent and his wife Amber were only working part time, they did not have the financial means to replace or repair the aging home.
In May 2005, the Nakihei family partnered with Molokai Habitat for Humanity. As partners, the Nakihei family was asked to contribute at least 700 hours of volunteer work, to include volunteer time building their own home. The new three bedroom one bath home was completed in August 2007.
With the help of Molokai Habitat for Humanity, the Nakihei family was able to build an affordable new home for their growing family. They pay approximately $300 each month toward a 20 year, $66,330 mortgage. Brent is now working full time as a Substance Abuse Counselor at the Hale Hookupaa Treatment Center, an outpatient substance treatment center that utilizes Hawaiian values in its treatment. Brent is also a full time student at the Molokai Education Center, a University of Hawaii Extension program run through the Maui Community College on Molokai and working toward his Associates Degree in Human Services. His wife, Amber, is a Day Head Cook at the Molokai Hula Shores Restaurant at Hotel Molokai.
Brent and Amber have four children ages 12, 10, 7 and 10 months that will learn the responsibilities of homeownership from a young age and have a safe home to grow up in. Brent says "I feel blessed to have the opportunity of being a part of Habitat for Humanity and Hawaiian Homes." Thank you.