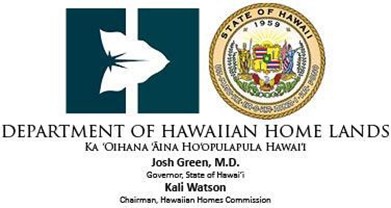 FOR IMMEDIATE RELEASE
AUGUST 28, 2023
DHHL awards 24 units at Villages of La'i 'Ōpua
The Laʻi ʻŌpua Village 4 ʻĀkau development is a rent-to-own community
(KEALAKEHE, HAWAI'I ISLAND) – Twenty-four rental units at the Villages of Laʻi ʻŌpua were awarded Saturday by the Department of Hawaiian Home Lands (DHHL).
The development at Laʻi ʻŌpua Village 4 ʻĀkau is a rent-with-option-to-purchase program community, aimed towards serving beneficiaries that meet the area median income guidelines set forth by the Department of Housing and Urban Development (HUD). This project allows beneficiaries to have affordable, controlled rent with the option to purchase after 15 years.
"We're very excited about Laʻi ʻŌpua and addressing the affordable housing needs of our people on the wait list," said Department of Hawaiian Home Lands Director Kali Watson. "The rent-with-option-to-purchase really makes sense. Based on the people we have on our wait list, we have a variety of different individuals with different incomes. This particular model allows lower-income people to get the benefit of a house right up front, rather than being denied because they don't qualify for a turnkey large mortgage."
Consisting of four developments – Village 3, Village 4 'Ākau, Village 4 Hema and Village 5 – the Villages of Laʻi ʻŌpua will house more than 580 beneficiaries and their families.
"I'm excited to be a part and have it for my kids and I and my grandkids to come," said DHHL beneficiary Faith Spinney. "I'm hoping to do some vegetable gardening on the front side and some kind of hydroponics on the back side in hopes to, not just for myself, to help the community."
Affordable housing developer Ikaika 'Ohana began construction on Village 4 ʻĀkau homes in early 2020. The properties will be managed by ThirtyOne 50 Management, LLC.
Renters will begin moving into their homes in two phases from August to October 2023.
Tenants will receive home ownership education and support throughout the rental period. After the 15 years, the tenant may exercise the right to purchase the home and enter into a 99-year lease with the DHHL.
Rent paid during the 15-year rental period will not be applied to the purchase price of the home.
CLICK HERE FOR VISUALS, SOUND BITES FROM THIS WEEKEND'S EVENT.
###
About the Department of Hawaiian Home Lands:
The Department of Hawaiian Home Lands carries out Prince Jonah Kūhiō Kalanianaʻole's vision of rehabilitating native Hawaiians by returning them to the land. Established by U.S. Congress in 1921 with the passage of the Hawaiian Homes Commission Act, the Hawaiian homesteading program run by DHHL includes management of more than 200,000 acres of land statewide with the specific purpose of developing and delivering homesteading.
Media Contact:
Diamond Badajos
Information and Community Relations Officer
Department of Hawaiian Home Lands
Cell: (808) 342-0873