DHHL organizes supply drop for homesteaders at Villages of Leialiʻi
Posted on Aug 16, 2023 in Media Releases, Slider
FOR IMMEDIATE RELEASE
AUGUST 14, 2023
DHHL organizes supply drop for homesteaders at Villages of Leialiʻi
Maui Commissioner, staff walk neighborhood to assess damage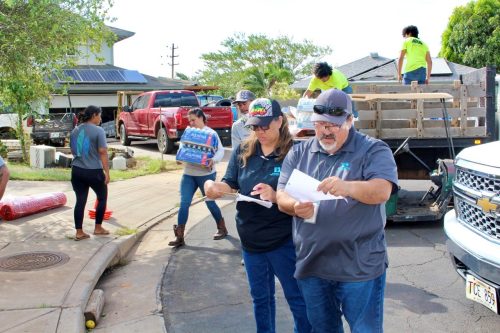 DHHL staff cross-reference beneficiary names with lot numbers
(LĀHAINĀ, MAUI) – The Department of Hawaiian Home Lands (DHHL) organized the delivery of essential goods to the homesteaders of Villages of Leialiʻi.
Portable toilets, generators, extension cords and a roll-off were delivered Saturday.
"After the fire, DHHL immediately began assessing the extent of the damage on Hawaiian Home Lands," said Hawaiian Homes Commission Chair Kali Watson. "This was crucial to understand the immediate needs of beneficiaries and to plan for long-term recovery."
In partnership with local and community leaders, Hawaiian Homes Maui Commissioner Randy Awo lead a team of DHHL staff through the Villages of Leialiʻi Thursday. While on the ground the team went door-to-door to check on beneficiaries, survey their needs, distribute supplies, and assess damage to homes.
"We are here to stand with our people in this time of devastation," said Commissioner Awo. "We are here to acknowledge the challenges that are in front of us and our commitment to be 'onipaʻa, as we move forward in resilience and resurrection."
DHHL is committed to meeting the needs of our community and will work alongside federal, state and county leaders to ensure beneficiaries are safe, sheltered and have access to necessities. The Department has allocated resources and funds to support recovery efforts. This requires both immediate crisis management funding and longer-term planning to ensure sustainable recovery.
"In the aftermath of the wildfires, DHHL is involved in rebuilding homes and infrastructure," Chair Watson said. "This entails not just restoring what was lost, but also considering how to build in a way that would be more resilient to future fires and storms."
The devastating Lāhainā wildfires consumed two homes. Villages of Leialiʻi consists of 104 residential lots.
CLICK HERE FOR IMAGES.
###
About the Department of Hawaiian Home Lands:
The Department of Hawaiian Home Lands carries out Prince Jonah Kūhiō
Kalanianaʻole's vision of rehabilitating native Hawaiians by returning them to the land. Established by U.S. Congress in 1921 with the passage of the Hawaiian Homes Commission Act, the Hawaiian homesteading program run by DHHL includes management of more than 200,000 acres of land statewide with the specific purpose of developing and delivering homesteading.
Media Contact:
Diamond Badajos
Information and Community Relations Officer
Department of Hawaiian Home Lands
Cell: (808) 342-0873