MAMALAHOA HIGHWAY ROAD PAVING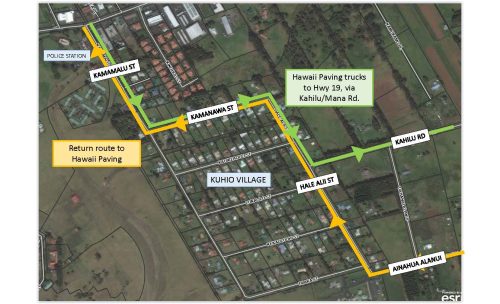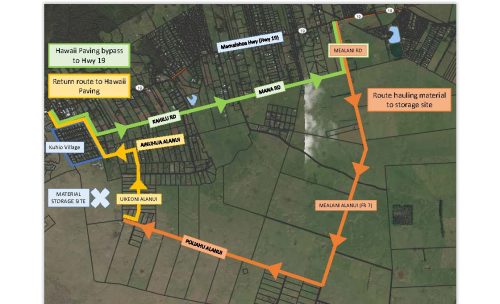 The State of Hawaii, Department of Transportation Highways Division (DOT-HWY) has scheduled a road paving project that is expected to begin the Week of July 12, 2023 and end in September 2023. Their contractor, Hawaii Paving (HP), has requested the department's assistance with the use of alternative routes through the homestead areas of Kuhio Village, Pu'ukapu Agricultural and Pastoral Lots for the trucks hauling material. This will relieve traffic congestion on Hwy 19 and allow them to complete the work as soon as possible.
The project area is on Hawaii Belt Road (Hwy 19) fronting the old Waimea Country Club Golf Course (mile marker 51) to Hohola Street. The work involves paving and striping of Mamalahoa Hwy. Hours of operation are from 7 a.m. to 5:30 p.m., Monday through Saturday.
Traffic will be affected in both directions from Waimea Town to Hilo on Hwy 19. To address the congestion, HP trucks will use Kuhio Village streets (Kamamalu-Kamanawa-Hale Ali'i) to Kahilu Road to bypass the traffic on Hwy 19. Once on Mana Road, the trucks will detour onto Mealani Road to Hwy 19 for delivery of asphalt and loading of cold plane material from the project area.
The material that is removed will be hauled to a storage site at the makai end of Poliahu Alanui. That route is Mealani Road to Mealani Alanui (Fire Road 7) to Poliahu.
HP will have staff at the Mamalahoa Hwy-Mealani Road and Mealani-Mana Road intersections for traffic control to limit the use of these corridors to construction-related vehicles. Traffic boards will notify drivers that homestead roads are not open for public use. People will be directed to travel on Hwy 19.
Construction and vehicle notices will be posted along the routes used by trucks hauling material. The speed limit will be 25 mph throughout the homestead roads. Safety is the primary goal.
By-pass routes may subject to change. Maps on this notice will be updated as needed.