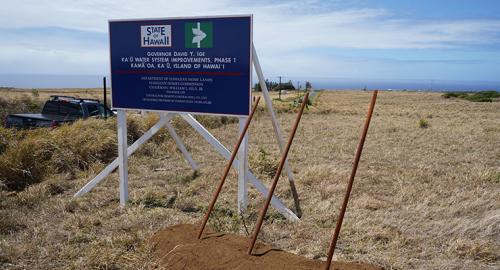 FOR IMMEDIATE RELEASE
January 4, 2023
Kaʻū Water System Improvements Planned
(Kaʻū, Hawaiʻi Island) – The Department of Hawaiian Home Lands (DHHL), through its contractor Isemoto Contracting Co., Ltd., is scheduled to begin improvements to the County of Hawai'i Department of Water Supply Public Water System #108 – Waiʻōhinu-Naʻalehu within Kaʻū on Hawaiʻi Island.
The work will include the construction of a 100,000-gallon water storage tank and appurtenances. A water-filling station with a spigot will be placed in the Kamāʻoa subdivision on Hawaiian Home Lands.
Work is scheduled to begin on Monday, January 9, 2023, and is anticipated to conclude at the end of the year. The public should expect construction materials and work crews along South Point Road throughout the construction period.
For more information, call (808) 620-9500.
###
About the Department of Hawaiian Home Lands:
The Department of Hawaiian Home Lands carries out Prince Jonah Kūhiō Kalanianaʻole's vision of rehabilitating native Hawaiians by returning them to the land. Established by U.S. Congress in 1921, with the passage of the Hawaiian Homes Commission Act, the Hawaiian homesteading program run by DHHL includes the management of over 200,000 acres of land statewide with the specific purpose of developing and delivering homesteading.
Media Contact:
Cedric Duarte
Information and Community Relations Officer
Department of Hawaiian Home Lands
(808) 620-9591
[email protected]