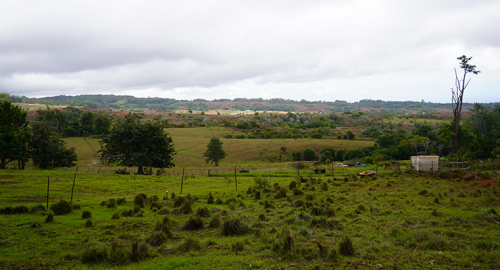 FOR IMMEDIATE RELEASE
September 16, 2022
DHHL Receives 2022 APAHI Outstanding Planning Award
(Koloa, Kaua'i) – The Department of Hawaiian Home Land's (DHHL) Puʻu ʻŌpae Kuleana Homestead Settlement Plan was selected as the winner of the American Planning Association Hawai'i Chapter's Outstanding Planning Award at the Hawaii Congress of Planning Officials Conference Awards Session on Thursday, September 15, 2022 at the Grand Hyatt Kaua'i Resort and Spa.
Crafted in partnership with G70, the Pu'u 'Ōpae Kuleana Homestead Settlement Plan provides a roadmap for future homesteading in Waimea, Kauaʻi.
"The entire project team who made this plan possible deserves this notable recognition," said Deputy to the Chair Tyler Iokepa Gomes. "The DHHL planning office with support from its consultant team of G70, Keala Pono Archaeological Consulting, Hui Ku Maoli Ola, Hawaii Wildfire Management Organization, Sustain Hawaii, and Resource Mapping Hawaii, were all instrumental in creating this plan which will ultimately result in native Hawaiians settling on lands that have been in the Hawaiian Homes Lands trust since the beginning."
The Pu'u 'Ōpae Settlement Plan focuses on the development of a DHHL Kuleana Homestead community on the mauka Waimea lands of west Kaua'i. Planning for Pu'u 'Ōpae began with DHHL's 2011 West Kaua'i Regional Plan, which identified the Pu'u 'Ōpae area as a Priority Project and called for the development of an agricultural and water plan.
The lands of Pu'u 'Ōpae are an ideal location for Kuleana Homesteading Program given their physical characteristics that include suitable topography, drainage, accessibility, proximity to natural and cultural resources, management of wildfire risk, and beneficiary preferences for subsistence agricultural lot size and configuration.
DHHL's Kuleana Homestead Program is intended to rehabilitate native Hawaiians by providing opportunities for self-sufficiency and self-determination, as such, raw land is offered to beneficiaries to live on, grow food to sustain their family, and utilize for community economic purposes.
The Puʻu ʻŌpae Kuleana Homestead Settlement Plan is an alternative and innovative approach to fulfill the vision of Prince Jonah Kūhiō Kalanianaʻole. This Plan perpetuates the legacy of Kūhiō's civic service to today's beneficiaries.
"In this context, kuleana is more than a right or responsibility but rather an ancestral obligation being carried across generations," said Kawika McKeague, AICP, Principal at G70. "The next steps of plan implementation will ensure the resiliency of future homesteaders to feed their families and make this special place their home. Accordingly, this award by the APA Hawai'i Chapter is a significant milestone that lends merit in recognizing community perseverance towards Maoli governance and self-determination."
G70 and DHHL published the Final Environmental Assessment with a Finding of No Significant Impact for the Pu'u 'Ōpae homestead settlement in August 2020.
For more information about the Pu'u 'Ōpae Settlement Plan, visit dhhl.hawaii.gov/po/kauai.
###
About the Department of Hawaiian Home Lands:
The Department of Hawaiian Home Lands carries out Prince Jonah Kūhiō Kalanianaʻole's vision of rehabilitating native Hawaiians by returning them to the land. Established by U.S. Congress in 1921, with the passage of the Hawaiian Homes Commission Act, the Hawaiian homesteading program run by DHHL includes the management of over 200,000 acres of land statewide with the specific purpose of developing and delivering homesteading.
About G70:
Established in 1971, G70 is a diverse family of entrepreneurial and highly creative individuals who come to work each day aspiring to contribute to the betterment of lives and places. We are deeply invested in understanding and perpetuating the cultural and historical resonance of the places we are touching. We endeavor to create exceptional value for our clients and communities by aligning with our clients' dreams and projecting them with farsighted vision. We imagine futures. For more information on Hawai'i's leading multi-discipline design firm specializing in architecture, interior design, civil engineering, planning, and environment, visit www.g70.design.
About the APA:
The American Planning Association is organized to advance the art and science of planning and to foster the activity of planning – physical, economic, and social – at the local, regional, state, and national levels. The APA is a non-profit public interest and research organization representing 37,000 practicing planners, officials, and citizens involved with urban and rural planning issues.
Sixty-five percent of APA's members are employed by state and local government agencies. These members are involved, on a day-to-day basis, in formulating planning policies and preparing land use regulations. The objective of the Association is to encourage planning that will contribute to public well-being by developing communities and environments that meet the needs of people and of society more effectively.
The national headquarters in Chicago, houses the research, publications, conference, education, membership, and marketing departments, and leadership and council programs (chapter, division, and student services). Offices in Washington D.C., houses AICP and professional development, outreach, and policy functions, including legislative affairs, and public information services.
Media Contact:
Cedric Duarte
Information and Community Relations Officer
Department of Hawaiian Home Lands
(808) 620-9591
[email protected]