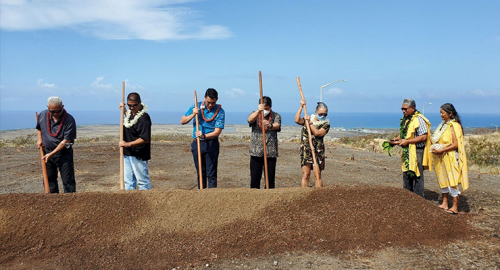 FOR IMMEDIATE RELEASE
March 23, 2022
DHHL Breaks Ground on New Hawaiʻi Island Residential Homestead Lots
(Kealakehe, Hawaiʻi Island) – The Department of Hawaiian Home Lands (DHHL) held a groundbreaking ceremony on Wednesday, March 23, 2022, to mark the beginning of a $13.8 million capital improvement project at DHHL's Villages of Laʻi ʻŌpua Village IV Hema Phase 2 subdivision in Kealakehe, Hawaiʻi Island.
The project is funded in part through an $11.1 Million Legislative appropriation and a $2.7 million grant from the United States Department of Agriculture Rural Development, Water and Environmental Program.
The Laʻi ʻŌpua Phase 2 Hema project work, conducted by Nan, Inc, will include grading, construction of roads, and utility improvements for a 125-lot residential subdivision. Construction is expected to take approximately 14 months to complete.
"It is very exciting to be back in Kealakehe this year to break ground on this project," said Deputy to the Chair Tyler Iokepa Gomes. "In 2021, we welcomed families into the last residential lots in the Akau portion of the Villages of Laʻi ʻŌpua and now we're one step closer to bringing more homestead lots online in the Hema Phase 2 portion for beneficiaries on Hawaiʻi Island."
The Villages of Laʻi ʻŌpua is a master-planned community with 572 acres of Hawaiian Home Lands transferred to DHHL in the mid-1990s. There are currently 284 residential homestead lots in the subdivision. The homestead community is expected to hold nearly 600 homes at final build-out. However, DHHL will need to acquire additional water credits from the County of Hawaiʻi to meet the needs of development of this size.
DHHL expects to break ground on two additional capital improvement projects next month on Hawaiʻi Island. In Honomū, DHHL will prepare 16 Subsistence Agricultural lots for award and in Kaʻū the Department will begin the installation of a new water tank for pastoral lessees. DHHL offered Homestead lots to beneficiaries in 2021 in the Discovery Harbour and Laʻi ʻŌpua subdivisions, also on Hawaiʻi Island.
###
About the Department of Hawaiian Home Lands:
The Department of Hawaiian Home Lands carries out Prince Jonah Kūhiō Kalanianaʻole's vision of rehabilitating native Hawaiians by returning them to the land. Established by U.S. Congress in 1921, with the passage of the Hawaiian Homes Commission Act, the Hawaiian homesteading program run by DHHL includes management of over 200,000 acres of land statewide with the specific purpose of developing and delivering homesteading.
Media Contact:
Cedric Duarte
Information and Community Relations Officer
Department of Hawaiian Home Lands
(808) 620-9591
[email protected]