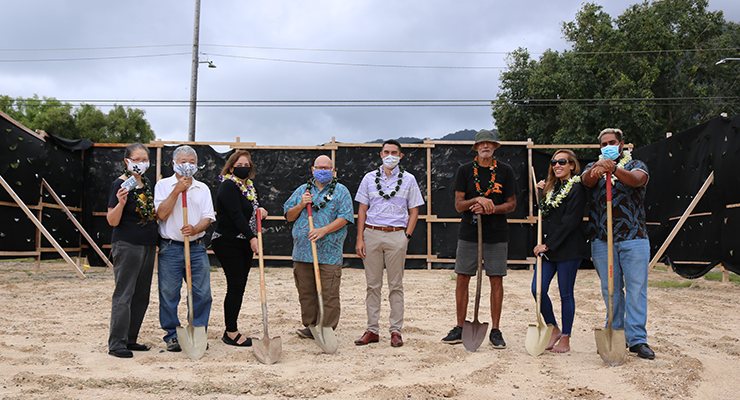 FOR IMMEDIATE RELEASE
May 5, 2021
DHHL, Honolulu Habitat Partnership Breaks Ground in Waimānalo
(Waimānalo, O'ahu) – The Department of Hawaiian Home Lands (DHHL), along with its Honolulu Habitat for Humanity (Honolulu Habitat) partner, has broken ground on its fifth project in DHHL's Kaka'ina community in Waimānalo.
A ground blessing was held for William and Cheryl Gramberg and their 'ohana on May 5, 2021 at 9 a.m. To comply with the Governor's latest proclamation on COVID-19 restrictions, the dedication was closed to the public.
The two-bedroom, 1.5-bathroom home is anticipated to be completed in early fall.
"We are very humbled to begin groundbreaking in Waimānalo, our home, we are so thankful. After all the hours of paperwork, meetings, and sweat equity it is truly a blessing for us to be here today with our closest family and friends to see the start of a new chapter," said Cheryl Gramberg. "We are feeling so happy, humbled, thankful, and excited. Our DHHL and Habitat collaboration has been life-changing. We have made new friends that we now consider family, learned new skills and gained a new appreciation for the home building process."
"This will be our fifth home in the Waimānalo development of Kaka'ina," Honolulu Habitat Executive Director Jim Murphy. "As this community comes together, we are blessed to meet families like Grambergs who have persevered through struggles to achieve their dream of owning their own home. Our collaboration with DHHL is vital to addressing the need for affordable homeownership in the native Hawaiian communities."
"Today is a momentous day for the Gramberg 'ohana. Getting onto the land as Prince Jonah Kūhiō Kalaniana'ole envisioned is in sight," said DHHL Deputy to the Chair Tyler Iokepa Gomes. "Partnerships with organizations like Honolulu Habitat are invaluable tools for our beneficiaries in building homes that fit their needs. It is always a good day to break ground on another new homestead."
The Gramberg home is the third home that Honolulu Habitat currently has under construction. The organization is committed to building a total of 40 homes over the next five years.
###
About the Honolulu Habitat for Humanity:
Honolulu Habitat for Humanity develops and funds each home project relying on volunteers, local businesses and contractors to receive in-kind donations of material and labor in order to reduce the overall cost. Honolulu Habitat for Humanity applications are reviewed by Honolulu Habitat's Family Selection Committee, using the selection criteria in a way that does not discriminate on the basis of race, sex, age, ability, religion, national origin, family status or marital status, or because all or part of income is derived from any public assistance program. Habitat homes are sold, not given, to approved homeowner applicants. Homeowners pay zero-interest monthly mortgage payments toward the full ownership of their homes. Moving into and owning a Honolulu Habitat home improves the quality of life for its residents, not only in the physical surroundings but also by instilling a sense of pride and responsibility that comes with homeownership.
About the Department of Hawaiian Home Lands:
The Department of Hawaiian Home Lands carries out Prince Jonah Kūhiō Kalanianaʻole's vision of rehabilitating native Hawaiians by returning them to the land. Established by U.S. Congress in 1921, with the passage of the Hawaiian Homes Commission Act, the Hawaiian homesteading program run by DHHL includes management of over 200,000 acres of land statewide with the specific purpose of developing and delivering homesteading.
Media Contacts:
Jim Murphy
Executive Director
Honolulu Habitat for Humanity
direct: (808) 538-7373
[email protected]
Cedric Duarte
Information and Community Relations Officer
Department of Hawaiian Home Lands
(808) 620-9591
[email protected]