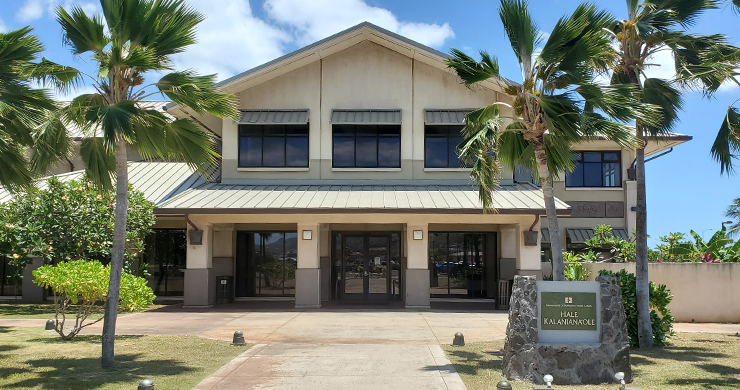 FOR IMMEDIATE RELEASE
March 15, 2021
HHCA Beneficiaries Invited to Offer Hoʻokupu in Recognition of Prince Kūhiō
(Kapolei, Oʻahu) – In recognition of Prince Kūhiō's 150th birthday, the Department of Hawaiian Home Lands (DHHL) will receive Hoʻokupu from Hawaiian Homes Commission Act beneficiaries at its Hale Kalanianaʻole office building in Kapolei, Oʻahu from March 15 to March 25, 2021.
All Ho'okupu will be placed before a portrait of Prince Jonah Kūhiō Kalaniana'ole prior to March 26, 2021, when all state offices will be closed in observance of Prince Kūhiō Day, honoring the life and legacy of Ke Ali'i Maka'ainana, the people's Prince.

"The word hoʻokupu means 'to cause growth,' and is meant as an expression of appreciation and a desire to grow and strengthen the relationship between the giver and the receiver," said Hawaiian Homes Commission Chair William J. Ailā, Jr. "If we were not in a pandemic, we would gather in person to celebrate the life and work of Prince Kūhiō. While that isn't possible at this time, we wanted to create an opportunity for the Department and the beneficiaries to demonstrate our appreciation of him."
Prince Kūhiō Day is recognized by the State of Hawaii on his birthday and honors the life of the longtime delegate to the U.S. Congress and his many accomplishments in service of his people and the Hawaiian Islands.
In keeping with the City & County of Honolulu's Tier 3 restrictions on public gatherings, beneficiaries who are interested in participating are asked to make an appointment with DHHL staff by e-mailing [email protected]. Appointments can be made until 4:00 p.m. on March 24, 2021.
###
About the Department of Hawaiian Home Lands:
The Department of Hawaiian Home Lands carries out Prince Jonah Kūhiō Kalanianaʻole's vision of rehabilitating native Hawaiians by returning them to the land. Established by U.S. Congress in 1921, with the passage of the Hawaiian Homes Commission Act, the Hawaiian homesteading program run by DHHL includes management of over 200,000 acres of land statewide with the specific purpose of developing and delivering homesteading.
Media Contact:
Cedric Duarte
Information and Community Relations Officer
Department of Hawaiian Home Lands
(808) 620-9591
[email protected]