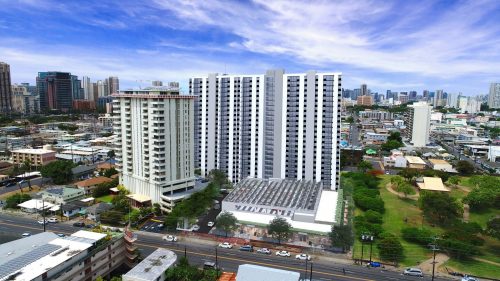 FOR IMMEDIATE RELEASE
September 22, 2020
Isenberg Property Redevelopment Partners Selected
(Kapolei, Oʻahu) – The Department of Hawaiian Homes Lands (DHHL) has selected a partnership of Stanford Carr Development (SCD) and Hawaiian Dredging Construction Company (HDCC) to implement the redevelopment of its 820 Isenberg Street property in Mōʻiliʻili, Oʻahu.
The property is the site of the former Stadium Bowl-O-Drome bowling alley, which opened in 1955 and closed in 2004. DHHL acquired the property from the Department of Land and Natural Resources in 1995. Currently, the site sits unoccupied.
Pursuant to Hawaii Revised Statutes section 103D-303 and the Hawaiian Homes Commission Act, section 207.5, a Request for Proposals (RFP) was issued on August 5, 2019. Five proposals were received in response to the RFP.
An evaluation committee consisting of three DHHL staff, an economics consultant, and a representative from the Papakōlea community scored each proposal based on the criteria specified in the RFP. Hawaiian Homes Commission Chair William J. Ailā, Jr. approved the selection committee's recommendation with the determination that SCD/HDCC received the highest overall scoring.
"This effort will be the Department's first high-rise project and will provide beneficiaries with an opportunity to live within Honolulu's urban core while they prepare themselves for a homestead lot," said Ailā. "We know many of our applicants are paying Honolulu's high market rents, making it difficult to prepare for their future homestead opportunity. DHHL's hope is that this affordable rental option not only provides the circumstance for our families to financially ready themselves but also the convenience of being closer to jobs and schools. Another hope of the development is to bring relief to some of the older members of our community through affordable housing opportunities."
As proposed, the rental project includes a 210-foot, 23-story high rise that will consist of 270 units. The building will include management offices, laundry and mailrooms, and community facilities. A four-story, 266-stall parking structure is planned to be lined with seven townhouse units, and 4,680 square feet of retail space along Isenberg Street is slated to have an additional 29 on-grade parking stalls.
The completed development is anticipated to include studios (23), one-bedroom units (23), two-bedroom units (201), three-bedroom units (23), and three-bedroom townhouses (7). Rent estimates are as low as $633 for studios and up to $3,133 for a three-bedroom townhouse.
The project is estimated to cost $137 million with SCD/HDCC expected to finance the project using Low-Income Housing Tax Credits, the State's Rental Housing Revolving Fund, and private sources. No DHHL funds will be used in the development of this project.
Beneficiaries and the general public will have the opportunity to offer comments on the development when it goes through the Environmental Assessment process slated to begin soon.
DHHL anticipates the project to be completed in mid-2024.
###
About the Department of Hawaiian Home Lands:
The Department of Hawaiian Home Lands carries out Prince Jonah Kūhiō Kalanianaʻole's vision of rehabilitating native Hawaiians by returning them to the land. Established by U.S. Congress in 1921, with the passage of the Hawaiian Homes Commission Act, the Hawaiian homesteading program run by DHHL includes management of over 200,000 acres of land statewide with the specific purpose of developing and delivering homesteading.
Media Contact:
Cedric Duarte
Information and Community Relations Officer
Department of Hawaiian Home Lands
(808) 620-9591
[email protected]