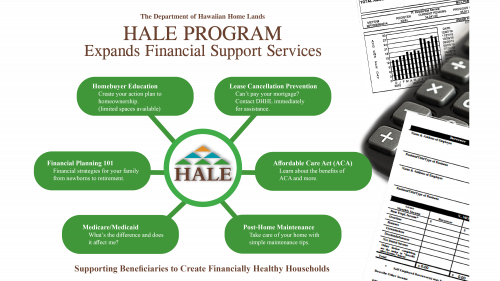 FOR IMMEDIATE RELEASE
September 22, 2020
DHHL Revamps Financial Support Service Program
(Kapolei, Oʻahu) – The Department of Hawaiian Home Lands (DHHL) is relaunching it's HALE program with expanded financial support services.
Initially established by the Department in 2012, the HALE program aids lessees and Waiting List Applicants with financial literacy education and support services.
DHHL has expanded on HALE's foundational concepts to new services that include Financial Planning 101, Post-Home Maintenance, Medicare/Medicaid, the Affordable Care Act, Vacant Lot Construction, and Owner Builder Process. Previous services like Lease Cancellation Prevention and Homebuyer Education will continue.
"The HALE program expansion builds on its past successes and adds services to meet new financial challenges in our community," said Deputy to the Chair Tyler Gomes. "We are excited to offer beneficiaries the opportunity, especially amid such uncertain COVID-19 times, to access financial literacy education and support services. These tools will not only aid our lessees and applicants in building strong financial foundations but will also lend support as things are difficult."
The Nānākuli Housing Corporation and Helen N. Wai, LLC were selected through a procurement process to act as the Department's program service providers. Classes start on October 12, 2020 and will be conducted online. Onsite classes will be considered upon the expiration of social distancing restrictions.
Those interested in learning more about the services listed above should visit dhhl.hawaii.gov/hale and complete the webpage form for verification of beneficiary status.
For more information, call (808) 620-9500.
###
About the Department of Hawaiian Home Lands:
The Department of Hawaiian Home Lands carries out Prince Jonah Kūhiō Kalanianaʻole's vision of rehabilitating native Hawaiians by returning them to the land. Established by U.S. Congress in 1921, with the passage of the Hawaiian Homes Commission Act, the Hawaiian homesteading program run by DHHL includes management of over 200,000 acres of land statewide with the specific purpose of developing and delivering homesteading.
Media Contact:
Cedric Duarte
Information and Community Relations Officer
Department of Hawaiian Home Lands
(808) 620-9591
[email protected]