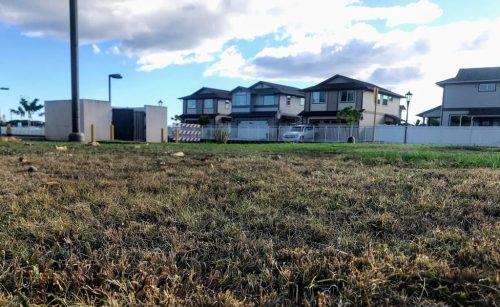 FOR IMMEDIATE RELEASE
September 18, 2020
DHHL Issues Vendor Letter on Pesticide Use
(Kapolei, Oʻahu) – Hawaiian Homes Commission Chair William J. Ailā, Jr. has issued a letter to Department of Hawaiian Home Lands (DHHL) vendors following beneficiary concerns over perceived spraying activities involving herbicides containing glyphosate, such as Roundup, on Hawaiian Home Lands.
"We take the concerns of beneficiaries seriously," said Chair Ailā. "While the majority of our vendors do a diligent job of maintaining our lands within the proper safeguards, the letter issued intends to serve as a reminder that Department practice does not permit the use of herbicides containing glyphosate in or near homestead communities and requests our vendors to be mindful of the safeguards in place to avoid community disturbance when conducting these activities."
DHHL oversees the maintenance of its unencumbered land inventory, waterways, and drainage systems throughout the state. In most instances, keeping these areas clear of pests, debris, trash, vegetation, and abandoned vehicles is handled by contracted vendors on a monthly basis.
The Department encourages beneficiaries to call (808) 620-9500 should they have concerns about maintenance activities within their communities.

The letter dated September 14, 2020 reads in full:
Aloha Vendors,
In light of beneficiary concerns, I am issuing this letter as a formal reminder that the Department of Hawaiian Home Lands has a strict practice of not spraying Roundup or any herbicide containing Isopropyl amine salt of glyphosate within homestead communities or near bodies of water.
In addition, I want to remind you that the Department does not authorize spraying if winds are steadily in excess of five miles per hour. Proper notifications and advisories should be posted, and dye markers used in spraying areas. The 100-foot buffer from existing homestead communities remains in place and it is expected that weedwhackers, not chemical sprays, be used for weed control when working within 100 feet of any dwelling or bodies of water. With the use of weedwhackers and mowers, it is still important to adhere to standard safety guidelines for distance from any pedestrians or nearby household members.
Any reported violations against the Department's practice on spraying herbicides containing Isopropyl amine salt of glyphosate may result in the termination of your contract with DHHL. Any confirmed damage caused by equipment use or spraying to property, including vegetation, will be the responsibility of the vendor to rectify or compensate.
Please contact your contracting division within DHHL should you have any questions or concerns.
I thank you for your ongoing diligence and care of our ʻĀina Hoʻopulapula.
Mahalo nui loa,
William J. Ailā, Jr., Chairman
Hawaiian Homes Commission
###
About the Department of Hawaiian Home Lands:
The Department of Hawaiian Home Lands carries out Prince Jonah Kūhiō Kalanianaʻole's vision of rehabilitating native Hawaiians by returning them to the land. Established by U.S. Congress in 1921, with the passage of the Hawaiian Homes Commission Act, the Hawaiian homesteading program run by DHHL includes management of over 200,000 acres of land statewide with the specific purpose of developing and delivering homesteading.
Media Contact:
Cedric Duarte
Information and Community Relations Officer
Department of Hawaiian Home Lands
(808) 620-9591
[email protected]