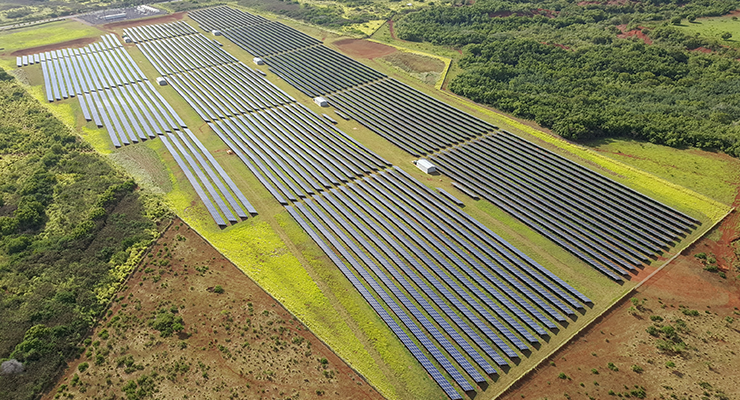 FOR IMMEDIATE RELEASE
August 31, 2020
DHHL Solicits Proposals for Renewable Energy Projects
(Kapolei, Oʻahu) – The Department of Hawaiian Home Lands (DHHL) is soliciting applications for future renewable energy projects on Oʻahu, Molokaʻi, and Hawaiʻi Island.
DHHL intends to general lease land for renewable energy projects, pursuant to Section 171-95.3 HRS, as amended. Renewable energy was determined to be an appropriate use of these lands through the development of DHHL's Island Plans, as well as the Department's 2009 Hoʻomaluō Energy Policy.
An Environmental Assessment, beneficiary consultation, and public hearings will be part of the leasing process prior to the eventual execution of a general lease.
The chart below identifies the potential project locations and acreages:

DHHL is issuing this solicitation in order to ascertain potential developers who are interested in utilizing a portion of the Department's revenue-generating properties to respond to Hawaiian Electric's upcoming Community-Based Renewable Energy (CBRE) Requests for Proposals. CBRE provides a way for participating subscribers, without access to rooftop solar, for example, to benefit from electricity generated by a renewable energy facility located in their utility service territory.
"Under my administration, the Department has and will continue to seek creative ways to serve our beneficiaries," said Hawaiian Homes Commission Chairman William J. Ailā, Jr. "Renewable energy is a way for DHHL to generate revenue from rural lands that cannot be used for homesteading either due to their remote locations, lack of infrastructure, or lack of water. We can then deploy that revenue into building new homesteads for applicants on the Waiting List. This effort could also provide existing lessees the ability to reduce their electricity bills."
The Hawaiian Homes Commission approved the solicitation at its August 2020 board meeting.
Renewable energy producers, as defined in Section 171-95, HRS, interested in submitting a proposal have through 2:00 p.m. HST on Friday, Oct. 16, 2020 to submit a completed application to DHHL.
An information packet containing application information, property information, objectives and criteria, leasing process, schedule, and other requirements can be found on the Department's website at https://dhhl.hawaii.gov/procurement/ under the "Solicitation for Renewable Energy Projects" heading.
For more information, call (808) 620-9500.
###
About the Department of Hawaiian Home Lands:
The Department of Hawaiian Home Lands carries out Prince Jonah Kūhiō Kalanianaʻole's vision of rehabilitating native Hawaiians by returning them to the land. Established by U.S. Congress in 1921, with the passage of the Hawaiian Homes Commission Act, the Hawaiian homesteading program run by DHHL includes management of over 200,000 acres of land statewide with the specific purpose of developing and delivering homesteading.
Media Contact:
Cedric Duarte
Information and Community Relations Officer
Department of Hawaiian Home Lands
(808) 620-9591
[email protected]