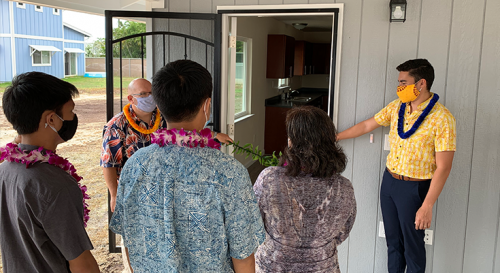 FOR IMMEDIATE RELEASE
July 16, 2020
DHHL, Honolulu Habitat Partnership Completes Waimānalo Home
(Waimānalo, O'ahu) – The Department of Hawaiian Home Lands (DHHL), along with its Honolulu Habitat for Humanity (Honolulu Habitat) partner, welcomed Shannon Chow and her ʻohana to their new home on Thursday, July 16.
The four-bedroom, two-bathroom, 1,200-square foot home located in the Kakaina subdivision of Waimānalo, was completed with the help of over 250 volunteers. The efforts included the homeowner, the homeowner's family and friends, and volunteers totaling over 3,000 donated hours.
"Building with Shannon has been inspiring for all of us. As a single mother, you could see the fire in her eyes to never let go of this dream," said Honolulu Habitat Executive Director Jim Murphy. "When her mother passed, we had a delay in starting to allow for DHHL to process the land lease over to Shannon. The Department worked fast to get paperwork finalized and allowed us to begin as soon as possible. Everyone came together to get Shannon and her kids out of public housing and into a new home."
"Homes like this are especially rewarding for the Department in the fulfillment of Kūhiō's vision," said DHHL Deputy to the Chairman Tyler Gomes. "Our partnership with Habitat, combined with deploying federal funds from the Native American Housing Assistance and Self-Determination Act allowed this family to achieve homeownership at an affordable price."
"I've been in a jubilant mood ever since we set the dedication date for our home," said Chow. "The boys and I feel so privileged to be a part of the Honolulu Habitat family."
The Chow home is the 84th home completed by Honolulu Habitat. It also continues the organization's commitment to building a total of 40 homes in the next five years.
###
About the Honolulu Habitat for Humanity:
Honolulu Habitat for Humanity develops and funds each home project relying on volunteers, local businesses and contractors to receive in-kind donations of material and labor in order to reduce the overall cost. Honolulu Habitat for Humanity applications are reviewed by Honolulu Habitat's Family Selection Committee, using the selection criteria in a way that does not discriminate on the basis of race, sex, age, ability, religion, national origin, family status or marital status, or because all or part of income is derived from any public assistance program. Habitat homes are sold, not given, to approved homeowner applicants. Homeowners pay zero-interest monthly mortgage payments toward the full ownership of their homes. Moving into and owning a Honolulu Habitat home improves the quality of life for its residents, not only in the physical surroundings but also by instilling a sense of pride and responsibility that comes with homeownership.
About the Department of Hawaiian Home Lands:
The Department of Hawaiian Home Lands carries out Prince Jonah Kūhiō Kalanianaʻole's vision of rehabilitating native Hawaiians by returning them to the land. Established by U.S. Congress in 1921, with the passage of the Hawaiian Homes Commission Act, the Hawaiian homesteading program run by DHHL includes management of over 200,000 acres of land statewide with the specific purpose of developing and delivering homesteading.
Media Contacts:
Cedric Duarte
Information and Community Relations Officer
Department of Hawaiian Home Lands
(808) 620-9591
[email protected]
Jim Murphy
Executive Director
Honolulu Habitat for Humanity
direct: (808) 538-7373
[email protected]