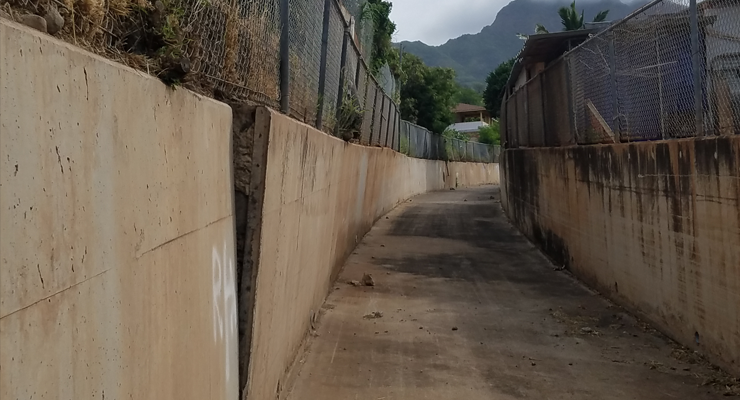 FOR IMMEDIATE RELEASE
July 13, 2020
Nānākuli Flood Control Channel Improvements
(Nānākuli, Oʻahu) – The Department of Hawaiian Home Lands (DHHL), through its contractor Sea Engineering Inc., will begin work on July 13 to refurbish the concrete flood drainage canal in Nānākuli.
Contractors will perform concrete relining, concrete spall repair, concrete crack repair, and chain link fence repairs to roughly a mile of the Nānākuli Flood Control Channel. The project will also include the installation of security gates at channel entry points and maintenance easements.
"The first 109 homesteaders moved into Nānākuli in the 1930s," said Hawaiian Homes Commission Chairman William J. Ailā, Jr. "DHHL is proceeding with a number of repair and maintenance projects on many aging homestead communities throughout the State."
Construction materials will be staged at the mauka end of Ulei Street. Residents in the area should anticipate construction noise during regular work hours.
DHHL has requested that the 75 affected homesteaders clear a three-foot space from the canal fence once the repair work reaches their backyards.
In total, the project is possible through the utilization of $3.5 million in legislative appropriated funds.
"I am happy to see DHHL move forward on implementing this legislative appropriation," said District 43 Representative Staceylynn Eli. "These improvements are among several initiatives designed to improve the health and safety of residents in Nānākuli."
Weather permitting, the project is anticipated to be completed in 12 months.
For more information, call (808) 620-9500.
###
About the Department of Hawaiian Home Lands:
The Department of Hawaiian Home Lands carries out Prince Jonah Kūhiō Kalanianaʻole's vision of rehabilitating native Hawaiians by returning them to the land. Established by U.S. Congress in 1921, with the passage of the Hawaiian Homes Commission Act, the Hawaiian homesteading program run by DHHL includes management of over 200,000 acres of land statewide with the specific purpose of developing and delivering homesteading.
Media Contact:
Cedric Duarte
Information and Community Relations Officer
Department of Hawaiian Home Lands
(808) 620-9591
[email protected]