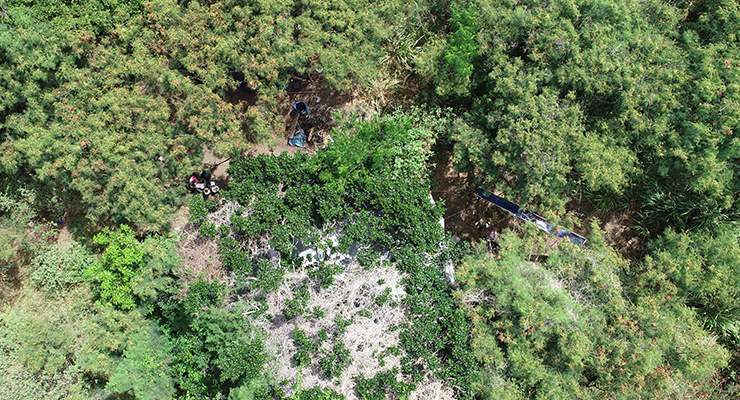 FOR IMMEDIATE RELEASE
July 7, 2020
DHHL Removes 12 Unauthorized Campsites in Waimānalo, O'ahu
(Waimānalo, O'ahu) – The Department of Hawaiian Home Lands (DHHL), in conjunction with the Honolulu Police Department, Hawai'i Department of Transportation, Department of Public Safety Sheriffs Division, and with support of the Governor's Task Force on Homelessness, recently conducted the removal of unauthorized campers and an associated cleanup in Waimānalo, O'ahu.
DHHL staff posted notifications ahead of the removal on the hillside along Waimānalo formerly known as Correa Ranch and the makai side of Kalanianaʻole Highway extending from the Makai Research Pier to the first fee simple property going east.
Eighteen people were identified and issued trespass warnings and notices to remove personal property.
In total, 12 camps were identified and cleared, including eight areas that were unoccupied.
One vehicle was towed on DHHL land along Kalanianaʻole Highway. HPD also tagged and towed six vehicles on the mauka side of the road that were on DOT property as part of the project.
"The Department hears the request for removal operations within homestead communities and their nearby lands," said Hawaiian Homes Commission Chairman William J. Ailā, Jr. "As resources become available, and through strategic partnerships, the Department is prioritizing where and when to conduct these actions. HPD, DOT, and the Governor's Task Force on Homelessness provided tremendous support of this operation and we value the continued partnership."
###
About the Department of Hawaiian Home Lands:
The Department of Hawaiian Home Lands carries out Prince Jonah Kūhiō Kalanianaʻole's vision of rehabilitating native Hawaiians by returning them to the land. Established by U.S. Congress in 1921, with the passage of the Hawaiian Homes Commission Act, the Hawaiian homesteading program run by DHHL includes management of over 200,000 acres of land statewide with the specific purpose of developing and delivering homesteading.
Media Contact:
Cedric Duarte
Information and Community Relations Officer
Department of Hawaiian Home Lands
(808) 620-9591
[email protected]