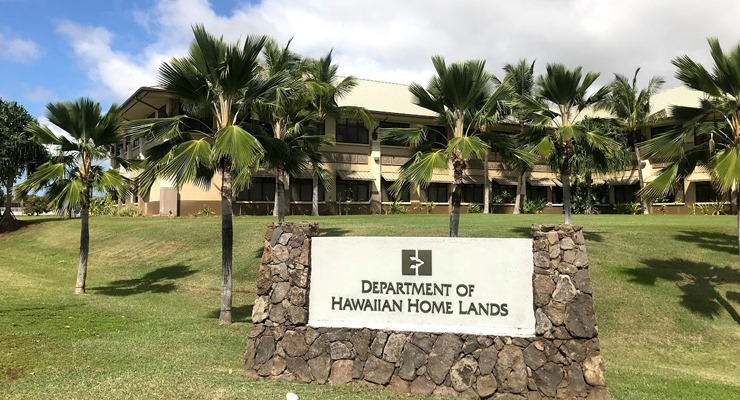 FOR IMMEDIATE RELEASE
March 20, 2020
COVID-19 Impacts on DHHL Operations
(KAPOLEI, OʻAHU) – The Department of Hawaiian Home Lands (DHHL) has launched a COVID-19 update page on its website to provide information regarding the impacts of the COVID-19 virus on the Department's operations.
DHHL will update the page, dhhl.hawaii.gov/COVID19, regularly with related closures and information to ensure a steady flow of accurate information to beneficiaries regarding the Department's operations and procedures.
"We are working to maintain as much continuity of service as possible during this ever-evolving situation," said Hawaiian Homes Commission Chairman William J. Ailā, Jr. "Our priority is the health and safety of our beneficiaries and staff."
All DHHL offices are closed statewide through April 3, 2020, including the Department's main office in Kapolei, Oʻahu. The public should anticipate delays on all services including, but not limited to, transfers, successorships, home sales, and billing.
Payments to DHHL for Direct Loans, water bills, general leases, and rights of entry are only being accepted via mail. No walk-in payments are being accepted as a result of the office closures. All payments should be mailed to P.O. Box 1721, Honolulu, HI 96806. Only checks, cashier's checks, or money orders will be accepted for the mail in payments.
Beneficiaries are asked to continue to make their regular loan and water payments. Anyone experiencing financial hardship due to the COVID-19 outbreak should contact his or her lender as soon as possible. If the loan is directly with DHHL, call (808) 620-9500.
The Hawaiian Homes Commission (HHC) has postponed its regularly scheduled monthly meeting that was set to take place on Molokaʻi on Monday, April 20 and Tuesday, April 21. Determinations about future scheduled HHC meetings will be made as the current COVID-19 response is monitored. Information about HHC meetings can be found on the Department's website, dhhl.hawaii.gov/hhc.
Reservations for Department facilities, including the Paukūkalo Homestead Community Center on Maui, Kūlana ʻŌiwi Center on Molokaʻi, and Kūhiō Hale in West Hawaiʻi through April 30, have been canceled. No additional reservations are currently being accepted and anyone who had a cancellation will receive a refund.
For the latest information about COVID-19 impacts on DHHL activities, please visit dhhl.hawaii.gov/covid19. For information from the Hawaiʻi State Department of Health go to hawaiicovid19.com.
###
ABOUT THE DEPARTMENT OF HAWAIIAN HOME LANDS:
The Department of Hawaiian Home Lands carries out Prince Jonah Kūhiō Kalanianaʻole's vision of rehabilitating native Hawaiians by returning them to the land. Established by U.S. Congress in 1921, with the passage of the Hawaiian Homes Commission Act, the Hawaiian homesteading program run by DHHL includes management of over 200,000 acres of land statewide with the specific purpose of developing and delivering homesteading.
MEDIA CONTACT:
Cedric Duarte
Information and Community Relations Officer
Department of Hawaiian Home Lands
(808) 620-9591
[email protected]