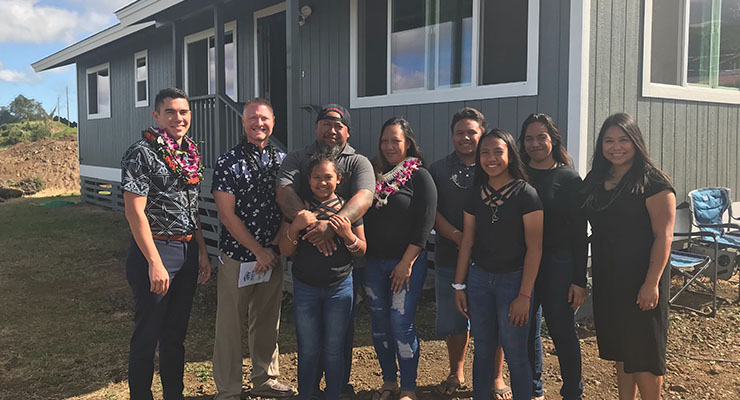 FOR IMMEDIATE RELEASE
February 5, 2020
DHHL, Habitat Partnership Completes Maui Home
(KULA, MAUI) – The Department of Hawaiian Home Lands (DHHL), along with its Habitat for Humanity Maui (Habitat) partners, welcomed the Kuailani ʻohana to their new home on Wednesday, Feb. 5.
Approximately 27 volunteers helped complete the Kula project, totaling over 1,100 donated hours, which included efforts from the homeowner, the homeowner's family and friends, and volunteers from across Maui.
"Part of Prince Kuhio's vision was to empower native Hawaiians," said DHHL Deputy Tyler Gomes. "The fact that this family put in so many hours is a testament to that empowerment. DHHL's partnership with Habitat for Humanity Maui allows the Department to create affordable opportunities that serve beneficiaries who may not have the means to purchase a turn-key home, but do have the will, alongside their families and friends, to build a home that is suitable to their needs."
The Kuailani family now has the keys to their new four-bedroom, two-bathroom residence that totals 1,200 square feet.
"Our whole family came out to support us and help to build this house," said new DHHL lessee Kiley Kualani. "I'm just so grateful for the many hands that helped us. I know where every nail in this house is and I know my dad's mana is here with us."
"DHHL has quite a lineup for Habitat for Humanity Maui," said Matt Bachman, Family Services Manager at Habitat for Humanity Maui. "We have four families in line, and we are already clearing land here and start building in July, if not sooner."
DHHL is in the process of awarding 395 lots statewide and has over 1,300 lots in its production pipeline that are anticipated to be completed over the next five years.
###
ABOUT THE DEPARTMENT OF HAWAIIAN HOME LANDS:
The Department of Hawaiian Home Lands carries out Prince Jonah Kūhiō Kalanianaʻole's vision of rehabilitating native Hawaiians by returning them to the land. Established by U.S. Congress in 1921, with the passage of the Hawaiian Homes Commission Act, the Hawaiian homesteading program run by DHHL includes management of over 200,000 acres of land statewide with the specific purpose of developing and delivering homesteading.
MEDIA CONTACT:
Cedric Duarte
Information and Community Relations Officer
Department of Hawaiian Home Lands
(808) 620-9591
[email protected]