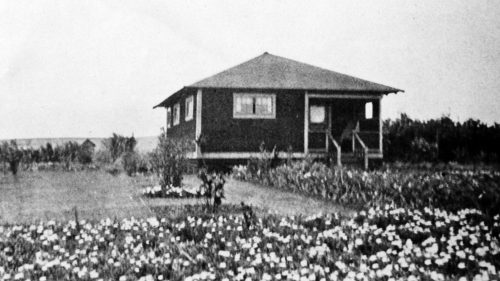 FOR IMMEDIATE RELEASE
October 7, 2019
Kalama`ula and Ho`olehua Homesteaders Near 99 Lease Mark
(MOLOKA`I, HI) – Hawaiian Homes Commission Act (HHCA) beneficiaries on the Island of Moloka`i holding leases in the Kalama`ula and Ho`olehua communities will soon approach the 99-year lease mark.
Following the passage of the HHCA in 1921, the kuleana and future of the new program was placed on the shoulders of 42 native Hawaiians in Kalama`ula through a pilot program, which would serve as the foundation of homesteading today. The early success of these homesteaders, who relocated from across the island chain, paved the way forward for the realization of Prince Kūhiō's vision.
"Over 100 years ago, Prince Kūhiō sought to return native Hawaiians to the land through a homesteading program," said Hawaiian Homes Commission Chair William J. Aila, Jr. "The families in Kalama`ula and Ho`olehua exemplify his vision of rehabilitation. Without their success in the early years, we would not be continuing today."
Per Section 208 (2), lessees who are interested in extending their 99-year leases for an additional 100 years can do so via request through the Department of Hawaiian Home Lands (DHHL) and with approval of the Hawaiian Homes Commission.
A link to the form can be found on DHHL's website. Completed forms should be submitted to the Moloka`i District Office, located at Kūlana 'Ōiwi Complex, 600 Maunaloa Highway Bldg D, Kalama`ula, Moloka`i 96748. Its hours of operation are Monday through Friday from 7:45 a.m. to 4:30 p.m.
Beneficiaries may contact the Moloka`i District Office at (808) 560-6104 for more information.
###
ABOUT THE DEPARTMENT OF HAWAIIAN HOME LANDS:
The Department of Hawaiian Home Lands carries out Prince Jonah Kūhiō Kalanianaʻole's vision of rehabilitating native Hawaiians by returning them to the land. Established by U.S. Congress in 1921, with the passage of the Hawaiian Homes Commission Act, the Hawaiian homesteading program run by DHHL includes management of over 200,000 acres of land statewide with the specific purpose of developing and delivering homesteading.
MEDIA CONTACT:
Cedric Duarte
Information and Community Relations Officer
Department of Hawaiian Home Lands
(808) 620-9591
[email protected]