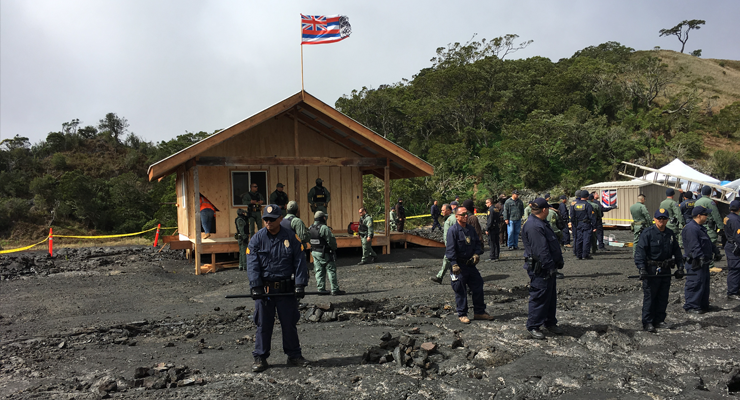 DLNR image.

FOR IMMEDIATE RELEASE
September 6, 2019
State Collaboratively Removes Unpermitted Structure Near Pu'u Huluhulu
(PU'U HULUHULU, HI) – The State of Hawai'i removed an unpermitted structure near the Pu'u Huluhulu site on Department of Hawaiian Home Lands property on Friday, Sept. 6, 2019.
Removal efforts were conducted by Hawai'i Department of Transportation (HDOT) personnel, at the request of DHHL, in a process that took approximately four hours. Prior to the removal of the unpermitted structure, two individuals were arrested at the site for Obstruction of a Governmental Operation. State and Hawai'i County law enforcement personnel remained present throughout the removal to ensure the security of the operation and the safety of everyone involved.
The structure was constructed with a floor, framing, and a roof that appeared to resemble a building anticipated to be permanent. Prompt removal was deemed necessary as the structure posed serious health and safety concerns related to fire protection and structural integrity.
Additionally, since the structure was built without any regulatory oversight, there were concerns about the impact it could have on the land and the possible introduction of invasive species including fire ants.
"Given the health, safety, and environmental concerns, the Department prioritized the prompt removal of the structure," said Hawaiian Homes Commission Chair William J. Aila, Jr. "With the assistance of HDOT personnel, we were able to accomplish this task quickly and efficiently. DHHL will be reimbursing our partners for this work."
"Law enforcement has deliberately refrained from escalating its approach to the current protest because it was important to provide some meaningful space and time for all of us to find a peaceful resolution to this situation," said Governor David Ige. "However, this type of permanent structure erected without DHHL permission, and without being regulated or inspected in any way, cannot be allowed. The safety risk is too great."
DHHL posted a Notice to Vacate on Sept. 4, 2019, both on the property and to the individual who organized the erection of the structure.
Any unclaimed property will be handled in accordance with 171-31.5, HRS.
###
ABOUT THE DEPARTMENT OF HAWAIIAN HOME LANDS:
The Department of Hawaiian Home Lands carries out Prince Jonah Kūhiō Kalanianaʻole's vision of rehabilitating native Hawaiians by returning them to the land. Established by U.S. Congress in 1921, with the passage of the Hawaiian Homes Commission Act, the Hawaiian homesteading program run by DHHL includes management of over 200,000 acres of land statewide with the specific purpose of developing and delivering homesteading.
MEDIA CONTACT:
Cedric Duarte
Information & Community Relations Officer
Department of Hawaiian Home Lands
[email protected]