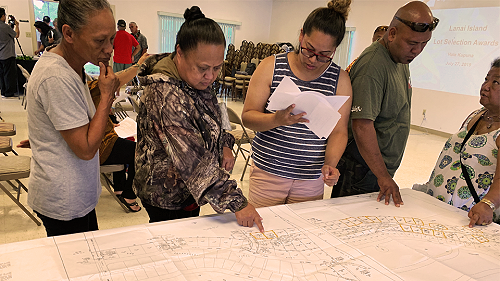 FOR IMMEDIATE RELEASE
July 27, 2019
DHHL Offers 16 Lots on Lānaʻi
(Lānaʻi City, HI) – The Department of Hawaiian Home Lands (DHHL) offered 16 vacant lots to its Lānaʻi waitlist beneficiaries on Saturday, July 27.
Saturday's lot selection ceremony took place at Hale Kupuna O Lānaʻi in Lānaʻi City.
The 16 vacant lots are among 45 within the current subdivision. DHHL awarded the initial 29 lots in 2004.
A vacant lot award allows new lessees the opportunity to build a home that is suitable for their budget needs.
"To be given an opportunity to have homelands on an island that is 90 percent owned by a corporation, that it is very important," said Solomon Kahoʻohalahala, who was offered a lot. "More importantly we are fulfilling a commitment to the kupuna, that their children and their grandchildren and their moʻopuna yet unborn will be recipients of this kind of program that was intended for native Hawaiians."
DHHL has a total of 50 acres of land on Lānaʻi. In addition to the 16 lots offered on Saturday, the Department has future plans to develop approximately an additional 79 lots.
The most recent award is among 395 planned statewide for 2019. DHHL has over 1,300 lots in its production pipeline that are anticipated to be completed over the next five years.
###
ABOUT THE DEPARTMENT OF HAWAIIAN HOME LANDS:
The Department of Hawaiian Home Lands carries out Prince Jonah Kūhiō Kalanianaʻole's vision of rehabilitating native Hawaiians by returning them to the land. Established by U.S. Congress in 1921, with the passage of the Hawaiian Homes Commission Act, the Hawaiian homesteading program run by DHHL includes management of over 200,000 acres of land statewide with the specific purpose of developing and delivering homesteading.
Media Contact:
Cedric Duarte
Information & Community Relations Officer
Department of Hawaiian Home Lands
[email protected]