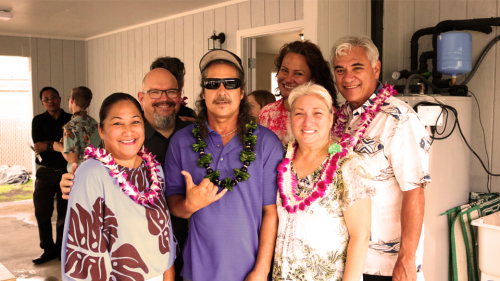 FOR IMMEDIATE RELEASE
July 26, 2019
Johnson `Ohana Comes Home
(Waimānalo, HI) – Vernon Johnson and his ʻohana received the keys to their six-bedroom, three-bathroom home in Waimānalo on Friday, July 26.
The home was built through a partnership between the Department of Hawaiian Home Lands (DHHL) and Honolulu Habitat for Humanity and was funded through a zero-interest loan made possible by the Native American Housing Assistance and Self-Determination Act, administered by DHHL.
"A number of people and organizations made this dream a reality for the Johnson ʻohana," said Hawaiian Homes Commission Chairman William J. Ailā, Jr. "The mana that has been placed into this home from every nail pounded will provide the Johnson family strength moving forward. Love and aloha are what will make this house a home."
Surrounded by family members, dignitaries, volunteers, and DHHL representatives, the Johnson's were presented with the official key to their newly built residence, which is now nearly three times bigger and half the cost of their previous rental.
"This partnership [with DHHL] is about community and bringing it all back full circle," said Jim Murphy, Executive Director of Honolulu Habitat for Humanity. "This is the biggest home we've ever built, and it wouldn't have been possible without the amount of dedicated people that were a part of it."
More than 500 local volunteers helped complete the Puha Street project, totaling over 4,000 volunteer hours.
"We have something to leave for our children and our grandchildren now," said Raynette Johnson, wife of DHHL lessee Vernon, through tears. "This has been a long process, but we have something now."
"We couldn't feel more grateful. We just want to thank you from the bottom of our hearts," Vernon added.
DHHL is in the process of awarding 395 lots statewide in 2019 and has over 1,300 lots in its production pipeline that are anticipated to be completed over the next five years.
###
ABOUT THE DEPARTMENT OF HAWAIIAN HOME LANDS:
The Department of Hawaiian Home Lands carries out Prince Jonah Kūhiō Kalanianaʻole's vision of rehabilitating native Hawaiians by returning them to the land. Established by the U.S. Congress in 1921 with the passage of the Hawaiian Homes Commission Act, the Hawaiian homesteading program run by DHHL includes management of over 200,000 acres of land statewide with the specific purpose of developing and delivering homesteading.
Media Contact:
Cedric Duarte
Information & Community Relations Officer
Department of Hawaiian Home Lands
[email protected]