DHHL Hosts Orientation for Waimānalo Lots
Posted on Jun 24, 2019 in Media Releases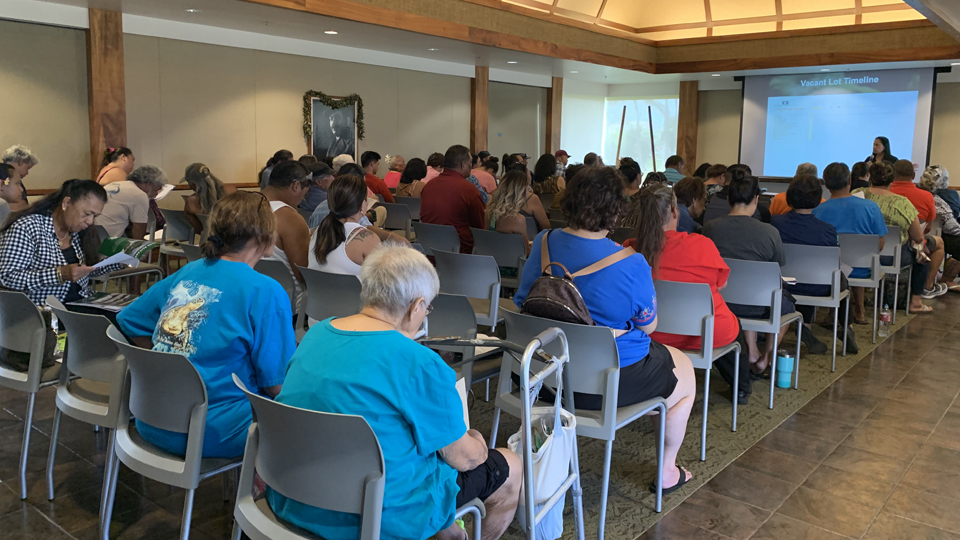 FOR IMMEDIATE RELEASE
June 24, 2019
DHHL Hosts Orientation for Waimānalo Lots
(KAPOLEI, HAWAI`I) – The Department of Hawaiian Homelands (DHHL) hosted an orientation on Saturday, June 22 for waitlist applicants interested in vacant lots within the Kakaina Subdivision in Waimānalo.
The 15 build-ready vacant lots have infrastructure in place including electricity, telecom, sewage, and water availability. They will be offered at a lot selection in August.
Hawaiian Homes Commission Chairman William J. Aila, Jr. opened the meeting noting the efforts and vision of the Department, highlighting the role of reciprocity that homesteaders have.
"Once you have a place of sanctuary, a hale, use the privilege to rehabilitate. Use the infrastructure cost put in place by the Department to send your keiki to school, start a business, malama the community – that is the vision," Aila said. He also reiterated the commitment DHHL has in advocating for beneficiaries to ensure fund availability and continued infrastructure build-out in support of the placement of native Hawaiians on the land.
New lessees will have the opportunity to build a home that fits the needs of their family, a prominent distinction of DHHL's offering of vacant lots. Service providers HPM Building Supply, Hardware Hawai`i, Honsador, HomeStreet Bank, and Honolulu Habitat provided beneficiaries with information on-site.
The Kakaina Subdivision offering of 15 lots are among 395 awards planned for 2019. DHHL has over 1,300 lots in its production pipeline that are anticipated to be completed over the next five years.
###
ABOUT THE DEPARTMENT OF HAWAIIAN HOME LANDS:
The Department of Hawaiian Home Lands carries out Prince Jonah Kūhiō Kalanianaʻole's vision of rehabilitating native Hawaiians by returning them to the land. Established by U.S. Congress in 1921, with the passage of the Hawaiian Homes Commission Act, the Hawaiian homesteading program run by DHHL includes management of over 200,000 acres of land statewide with the specific purpose of developing and delivering homesteading.
Media Contact:
Cedric Duarte
Information & Community Relations Officer
Department of Hawaiian Home Lands
[email protected]