Community Meeting on Sustainability of Kualapuʻu Aquifer
Posted on Apr 21, 2016 in Meetings
HOʻOLEHUA, MOLOKAʻI – Molokaʻi water stakeholders will introduce an innovative tool that allows us to evaluate the impact of possible groundwater withdrawal scenarios on the Kualapuʻu Aquifer at a community informational meeting on Monday, May 2, 2016, from 6:00 p.m. – 8:00 p.m. at the Lanikeha Community Center.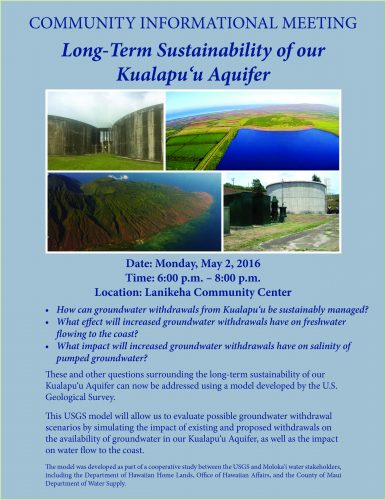 Click here to download a PDF version of the flyer.
The health and sustainability of the Kualapuʻu Aquifer on Molokaʻi has been a long-standing concern for Hawaiian homesteaders, beneficiaries, and the entire island community for decades.
How can groundwater withdrawals from Kualapuʻu be sustainably managed?
What effect will increased groundwater withdrawals have on freshwater flowing to the coast?
What impact will increased groundwater withdrawals have on salinity of pumped groundwater?
These and other questions surrounding the long-term sustainability of the aquifer can now be addressed using a model developed by the U.S. Geological Survey.
This USGS model will allow us to evaluate possible groundwater withdrawal scenarios by simulating the impact of existing and proposed withdrawals on the availability of groundwater in the Kualapuʻu Aquifer, as well as the impact on the water flow to the coast.
The model was developed as part of a cooperative study between the USGS and Molokaʻi water stakeholders, including the Department of Hawaiian Home lands, the Office of Hawaiian Affairs, and the County of Maui Department of Water Supply.
For more information, please contact the DHHL Planning Office at (808)620-9517.