Lower Kula Water System Construction
To Impact Residents of Lower Kula Road, Ka Drive
Motorists advised to drive cautiously
FOR IMMEDIATE RELEASE
September 22, 2014
KULA, HAWAI'I — The Department of Hawaiian Home Lands is alerting residents and motorists to construction activity in the Lower Kula area which may result in traffic impacts.
ROJAC Construction, Inc. the contractor, has begun work on the Department of Hawaiian Home Lands "Lower Kula Water System Improvements, Bypass Waterline for Phase VI Pumping Facilities" project. Work began on Sept. 15, 2014, and is scheduled from 7:00 a.m. to 3:30 p.m. on weekdays, with an estimated completion date of Feb. 28, 2015.
DHHL advises motorists to exercise caution in the area.
Access to the project site is through the Haleakala Ranch gate located at the top of Ka Drive. Construction vehicles will use the route from Kula Hwy., turning onto Omaopio Rd., then onto Lower Kula Rd., and finally onto Ka Dr. to the Haleakala Ranch gate. (Please see the attached map.)
Initially, trucks delivered approximately 8 loads of equipment and pipe to the work site. This work should now be nearly completed and the heavy equipment should not be on the neighborhood roads again until the equipment is removed on project completion.
The contractor is also providing dust mitigation in the area to minimize impact to the neighborhood.
The following announcement was run on Pacific Media Group Maui radio stations several times a day for several days at the beginning of the project:
Attention residents of Kula Kai and Kula Mala Subdivisions. Rojac Construction in conjunction with the Department of Hawaiian Home Lands will be beginning their Lower Kula Water System Improvements project on Monday September 15, 2014. Although the work will occur entirely in ranch lands, there will be increased large vehicle traffic due to the construction thru Ka Drive. Work hours shall be 7 am to 3:30 pm on weekdays. Thank you for your patience and understanding.
If you have questions or concerns, please contact Gary or Aaron in the ROJAC Construction, Inc. office at (808) 986-1105, or DHHL Project Manager Stewart Matsunaga at (808) 620-9283 or via email at [email protected]v.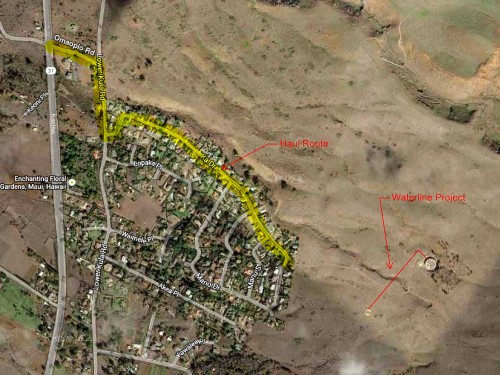 ###
MEDIA CONTACT
Punialoha Chee
Public Information Officer
Department of Hawaiian Home Lands
(808) 620-9591
[email protected]