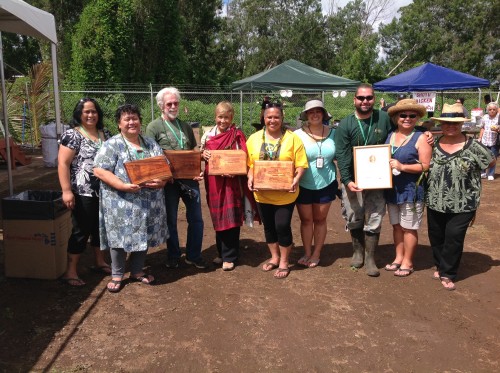 KĒŌKEA, MAUI – A new tradition is cropping up in Kēōkea, Mauiʻs only agriculture Hawaiian homestead.
"To me, this is a big celebration and a long time coming. A long time coming," said Guy Kiaha Jr., President of the Keokea Homestead Farm Lots Association.
More than five dozen local vendors including farmers from Kahikinui, Kēōkea, and Waiohuli, showcased their isle-produced crops, food, and arts and crafts at the first ever Kēōkea Hoʻolauleʻa today in Kula, Maui.
"It's a well-deserved pāʻina to celebrate all that hard work that weʻve put in. So much time to be able to provide for our future. And thatʻs all its about, our future, our keiki," said Kiaha.
The Kēōkea Hoʻolauleʻa was held at the Kēōkea Marketplace, a 40-acre parcel of Department of Hawaiian Home Landsʻ land leased by the Kēōkea Homestead Farm Lots Association in Upcountry Maui.
"This 40-acre parcel here in Kēōkea is going to create wonderful economic opportunities for our people," said Tasha Kama, a pioneering Kēōkea homestead leader, "This is our future."
Kama was instrumental in mobilizing Kēōkea farmers in the early 90s. Kēōkea farmers under the leadership of the Kēōkea Homestead Farm Lots Association organized the inaugural hoʻolauleʻa to celebrate the move from sustainable, subsistence farming to economic self-sufficiency.
"This is so that we can sustain ourselves as kanaka maoli, come together make a little marketplace, move along with the times," said Kiaha.
This slideshow requires JavaScript.
The vision is to have the hoʻolauleʻa evolve into a twice-a-month marketplace that replicates the successful Makuʻu Farmers Market operated by agriculture homesteaders in the Hawaiian homestead communities in Puna, Hawaiʻi.
Keokea was established in 1986 and encompasses 66 two-care lots dedicated to sustainable, subsistence farming.
"We moved here back in 1988. We roughed it. You know, before the ʻinfrastructure' was in," said Kēōkea homesteader Karen Park with a laugh, "It was like a camping trip that lasted for a while."
Karen and her husband Stephen are both active board members of the Kēōkea Farm Lots Association, and were key in organizing todayʻs hoʻolauleʻa
"This is all for everybody not just for Kēōkea. This is for Waiohuli, Kahikinui, and the general community of Kula," said Karen Park, treasurer for the Kēōkea Homestead Farm Lots Association.