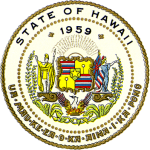 NEWS RELEASE
NEIL ABERCROMBIE
Governor
FOR IMMEDIATE RELEASE: May 29, 2014
HONOLULU – Gov. Neil Abercrombie today announced the release of $1.15 million in capital improvement grant funds for the Kapolei Community Development Corporation (KCDC).
Identified by the state Legislature, these funds will finance the construction of Phase I of KCDC's Heritage Center, which will serve as a community and cultural learning center for the Kapolei Hawaiian homestead communities. Phase I will include classrooms, restrooms, a commercial kitchen, an outdoor learning area, storage rooms, electrical and mechanical rooms, a loading zone, and parking area.
"The Heritage Center will serve as a gathering place for the various homestead communities in Kapolei," Gov. Abercrombie said. "Many of the services and programs that will come out of this center will also benefit the greater Kapolei community."
KCDC President Shirley Swinney said: "After seven years of hard work, this grant moves our vision for the Heritage Center one step closer to becoming a reality. We are grateful to Gov. Abercrombie and our state legislators for helping us make this happen."
The Heritage Center will be built on one acre of Hawaiian home lands adjacent to the Department of Hawaiian Home Lands' Kapolei headquarters. Future phases of the project include a large hall for meetings and events, additional space for KCDC and the homestead association to conduct business, and a historical and living gallery relating to the past, present and future of the homestead.
KCDC is a grassroots nonprofit founded in 2008 to serve and improve the quality of life for over 1,000 native Hawaiian families living in the Kapolei Hawaiian homestead communities of East Kapolei II, Kānehili, Kaupe'a, and Malu'ōhai. The organization is operated by volunteer members who set a course to build organizational capacity and to plan, design and fund a community facility for the community.
# # #
For more information, contact:
Justin Fujioka, Press Secretary
(808) 586-0012
[email protected]
https://governor.hawaii.gov
Shirley Swinney
President, Kapolei Community Development Corporation
(808)383-1228
[email protected]
www.kapoleicdc.org