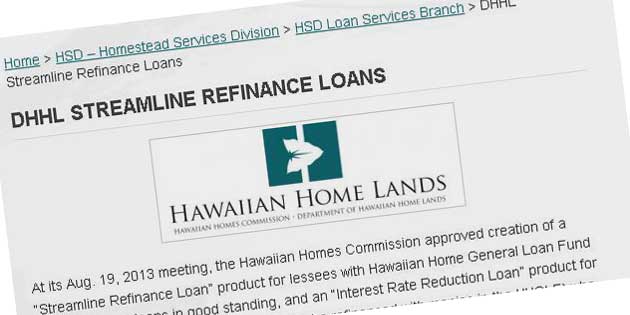 DHHL is now offering Streamline Loan Products
At its Aug. 19, 2013 meeting, the Hawaiian Homes Commission approved creation of a "Streamline Refinance Loan" product for lessees with Hawaiian Home General Loan Fund (HHGLF) direct loans in good standing, and an "Interest Rate Reduction Loan" product for delinquent loans (either in the HHGLF or to be refinanced with monies in the HHGLF) who meet specific criteria.
The purpose of the DHHL Streamline Refinance Loan and the Interest Rate Reduction Loan is to provide qualified lessees/borrowers with loan products to lower their monthly payment through a refinance of their loan via an interest rate reduction and/or extension of the term of the loan similar to those loan programs outside of DHHL. However, the DHHL products will require minimal loan documentation and no loan fee(s) will be assessed to the lessee.