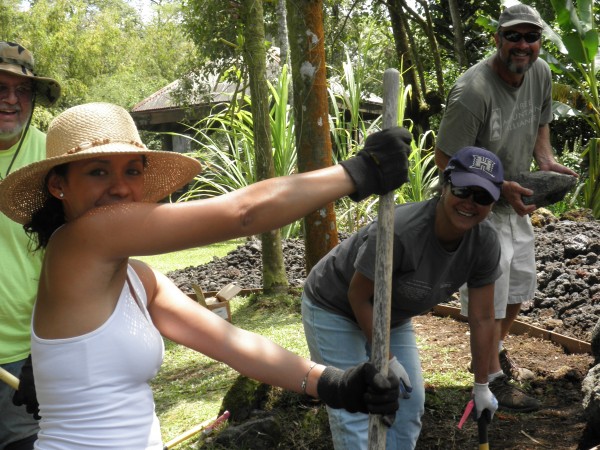 HILO, HAWAIʻI – Ten Hawaiian homesteaders were among a group of East Hawaiʻi leaders planting native Hawaiian trees at the Panaʻewa Zoo last month.
The planting project aimed to increase awareness of the cultural legacy tied to our native Hawaiian plants, and as a result, strengthen community pride and inspire future generations to mālama ʻāina.
The community project was the culmination of leadership training these community leaders received through the Ford Institute Leadership Program (FILP). Over the course of four months, participants covered courses in leadership development, effective organization, and community collaboration.
Representing the Makuʻu Farmers Association were Pua Fernandez, Shirley Pedro, and Danielle Tejada. Mele Spencer represented the Keaukaha-Panaʻewa Farmers Association. Patlynn Kaui and Donna Madrid represented the Panaʻewa Hawaiian Home Lands Community Association. Donna & Jeffrey Kekoa represented the Kaʻū Community Association. Our Piʻihonua Community Association was represented by Doreen & China Kodani.
This is the first time FILP was offered on Hawaiʻi Island through a partnership between FILP and the Department of Hawaiian Home Lands in collaboration with the County of Hawaiʻi – Department of Research and Development, Hawaiʻi Alliance for Community-Based Economic Development, Harold K. L. Castle Foundation, Hiʻilei Aloha LLC, The Atherton Family Foundation, U.S. Department of Agriculture – Rural Development, and the Waimānalo Community Association.