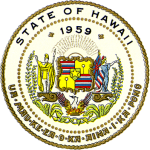 Governor Names Young Deputy to the Director
HONOLULU – Gov. Neil Abercrombie today announced the appointment of Darrell T. Young to the position of deputy director of the Department of Hawaiian Home Lands, effective May 1, 2013. Young is currently serving as the director of communications and acting deputy director.
"Darrell is a results-driven, team-oriented individual with more than 27 years of experience in government, communications and working with the community," Gov. Abercrombie said. "He has a proven track-record in building relationships and consensus within the community, and I am confident that his contribution to the Department of Hawaiian Home Lands will be significant."
Prior to becoming acting deputy director, Young worked as chief of staff for former Honolulu City Councilman Nestor Garcia since 2003.
Young also worked as a housing information officer for the Housing and Community Development Corporation of Hawaii from 2001-2003 and a management executive for the Hawaiiana Management Company, Ltd. in 2001. In addition, he was a government affairs representative for Tesoro Hawaii Corporation from 1995 to 2000 and worked for Aloha Petroleum, Ltd. from 1988 to 1995.
Young is an active member of the community, serving on the Waikele Community Association board of directors since 1996 (as president since 2010) and a member of the Champions at Waikele Neighborhood Committee since 1994. He also served on the Waipahu Neighborhood Board from 1995 to 1999.
He earned a bachelor's degree in business administration from the University of Notre Dame, South Bend, Ind., and is a graduate of Kamehameha Schools.
Young is a resident of Waikele and has been married for 22 years to his wife, Jamie. Together, they have two sons, Carson and Zachary.
For more information, contact:
Louise Kim McCoy, Director of Communications / Press Secretary, (808) 586-0012
https://hawaii.gov/gov