Beneficiary Consultation: Removing Ag and Pastoral Moratoriums
Posted on Mar 7, 2013 in Meetings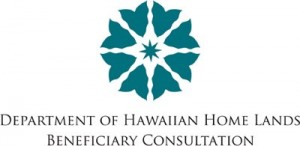 February 15, 2013
Aloha Homestead Farmers and Ranchers:
Subject: INVITATION TO ATTEND INFORMATIONAL MEETING REGARDING THE IMPLEMENTATION PLAN TO REMOVE THE MORATORIUM ON SUBDIVISIONS AND TRANSFER OF AGRICULTURE AND PASTORAL LEASES
On January 15, 2013, the Hawaiian Homes Commission authorized the Department of Hawaiian Home Lands (DHHL) to develop a plan to implement Hawaii Administrative Rules Section 10-3-26, which allows for the subdivision of agricultural and pastoral lots.
A moratorium on subdividing agricultural and pastoral homestead lots was approved by the Hawaiian Homes Commission on December 14, 1999, to preserve DHHL's agricultural homestead lands for farming and ranching.
The Implementation Plan is necessary to remove the moratorium on subdivisions, enforce existing laws and rules, and enable successful farming and ranching on Hawaiian Home Lands. This meeting focuses on the moratorium; however, in the future, DHHL plans to conduct additional meetings to look at DHHL's larger agricultural program.
As a homestead agricultural or pastoral lessee, you are invited to attend any of the following informational meetings to provide input and feedback to the Implementation Plan. All meetings will be conducted from 6:00 p.m. to 8:00 p.m. on the following dates:
Kauai – Monday, March 4, 2013
King Kaumualii School, 4380 Hanamaulu Road, Lihue
Maui – Thursday, March 7, 2013
Queen Liliuokalani Children's Center, 1791 Wili Pa Loop, Wailuku
Oahu – Friday, March 8, 2013
DHHL Hale Ponoi, 91-5420 Kapolei Parkway, Kapolei
Molokai – Monday, March 11, 2013
Lanikeha Community Hall in Hoolehua
Hawaii, Hilo – Wednesday, March 13, 2013
Keaukaha Elementary School, 240 Desha Ave, Hilo
Hawaii, Waimea – Friday, March 15, 2013
DHHL Waimea District Office, 64-756 Mamalahoa Hwy., Kamuela
Our findings from these informational meetings will be used to prepare a draft Implementation Plan which will be presented to the Hawaiian Homes Commission on April 22, 2013. We expect the Commission will make a final decision at its May 20, 2013, meeting on Molokai. After the Implementation Plan is adopted by the Commission, it may take several months before actual applications for subdivisions will be accepted by DHHL. You will be notified of the outcome and timeframe.
I urge you to attend these informational meetings. If you have any further questions, please do not hesitate to contact Bob Freitas at (808) 620-9484 or Ulu Lota at (808) 620-9517 in our Planning Office.
Aloha,
Jobie M. K. Masagatani,
Chair-Designate
Hawaiian Homes Commission