High court will not take up challenge to tax exemptions for native Hawaiians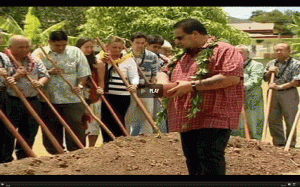 By KITV's  Catherine Cruz
HONOLULU – A decision by the nation's highest court removes a cloud over the Department of Hawaiian Home lands policies, on the day DHHL broke ground for a new subdivision.
Gov. Neil Abercrombie made a point of underscoring that at a groundbreaking for Kaka'ina, a 44-unit neighborhood in Waimanalo.
"What is good for native Hawaiians and Hawaiian Home Lands is good for all of Hawaii. Our tax policies with Hawaiian Home Lands are sound, somber and serious," Abercrombie said.
The U.S. Supreme court apparently didn't say why it chose not to hear the case, but those who challenged the tax exemption are disappointed the case got this far in the appeals process, only to be turned away the by the high court.
"It's a disappointment, but it's not the end, the battle will prevail, and the equal protection clause should apply to Hawaii as it does to other states," said Honolulu attorney Bill Burgess who sued the state over the tax exemptions provided to homesteaders.
Burgess lost on the Hawaii Supreme Court level because his clients didn't apply for Hawaiian Home Lands, and so didn't have standing.
The Honolulu attorney maintains his challenge is not a matter of being anti-Hawaiian but as a way to clarify the state's policies relating to Hawaiians as it applies to the Constitution.
Burgess won a round in the case of Rice vs. Cayetano which opened up the election of Office of Hawaiian Affairs to all voters.
"The government acts like it never happened, and they still continue to give special protection based on a particular race," said Burgess.
"People elect us to do the right thing constitutionally, to do the right thing in terms of policy that advances Hawaii's people," Abercrombie said.
Burgess plans to file a lawsuit over the state's planned transfer of Kakaako land to OHA as part of settlement over ceded lands.
The state is to transfer title to the land next week.