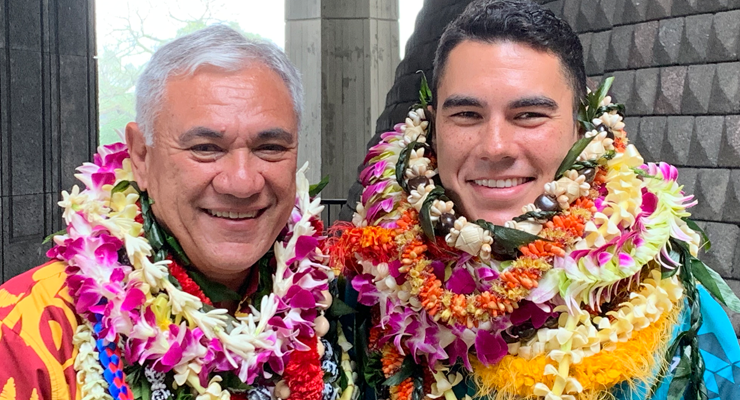 FOR IMMEDIATE RELEASE
February 10, 2020
State Senate Confirms DHHL Chair, Deputy
(HONOLULU, OʻAHU) – The Hawaiʻi State Senate voted to confirm the Department of Hawaiian Home Lands (DHHL) Chairperson William J. Ailā, Jr. and Deputy to the Chairperson Tyler Iokepa Gomes at a confirmation hearing on Monday, Feb. 10.
In a 21 to 3 vote, Chair Ailā was confirmed as the Department head. He was appointed to the role of Interim Chairperson by Governor David Ige on May 17, 2019. His role as Chair expires on Dec. 31, 2022.
Chair Ailā served as Deputy to the Chair from 2014-2018. He previously headed the Department of Land and Natural Resources (DLNR) and was Harbor Agent for the Waiʻanae Boat Harbor, Division of Boating and Recreation under DLNR.
"I thank Governor Ige and the Senate for the opportunity to continue to serve the Hawaiian community," said Chair Ailā. "I also want to recognize and thank the beneficiaries – those who supported my nomination and those who did not. As a longtime activist, I support and encourage more civic engagement, not less. In the end, I believe we are all working to better our community and I am eager to collaboratively continue to move the Trust forward."
Deputy Gomes was confirmed in a unanimous 24 to 0 vote. He was appointed to the role by Governor Ige on Sept. 30, 2019. His role as Deputy expires on Dec. 5, 2022.
Prior to his role at DHHL, Deputy Gomes served as the partnership manager at Elemental Excelerator, where he oversaw the Elemental Hui – a partnership network of local business, non-profit, educational, and philanthropic institutions. He previously served as Deputy Public Defender in the Office of the Public Defender and co-authored and co-edited legal pleadings in Waters v. Nago, which successfully overturned the 2018 election results in the District IV Honolulu City Council race.
"I'm honored to begin serving the beneficiaries of our ʻĀina Pulapula," said Deputy Gomes. "Prince Kūhiō's vision of returning native Hawaiians to the land is a solemn kuleana and I look forward to contributing to fulfilling that responsibility."
###
ABOUT THE DEPARTMENT OF HAWAIIAN HOME LANDS:
The Department of Hawaiian Home Lands carries out Prince Jonah Kūhiō Kalanianaʻole's vision of rehabilitating native Hawaiians by returning them to the land. Established by U.S. Congress in 1921, with the passage of the Hawaiian Homes Commission Act, the Hawaiian homesteading program run by DHHL includes management of over 200,000 acres of land statewide with the specific purpose of developing and delivering homesteading.
MEDIA CONTACT:
Cedric Duarte
Information and Community Relations Officer
Department of Hawaiian Home Lands
(808) 620-9591
[email protected]