These are the actual Department of Hawaiian Home Lands (DHHL) responses to a lengthy list of questions submitted by Honolulu Star-Advertiser reporter Rob Perez concerning the condition of some homestead properties. We expect related coverage in this weekend's newspaper. The newspaper's questions are in bold. Our responses follow. Here is a link to additional questions posed by Perez following receipt of these questions and answers.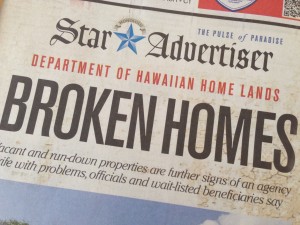 OVERVIEW
Houses on Hawaiian Home Lands are not public housing, and should not be compared as such. Instead, similar to other leasehold lands throughout the state, DHHL is the underlying leasehold landowner. DHHL invests between $175-200K for infrastructure per residential lot.  Above ground structures are the private property of the homesteaders.
Although a property might be in disrepair, it is not State property and the department cannot use State funds to repair, reahab or demolish private property unless it is a health and safety matter.  The Department does administer rehab and repair loan programs for lessees.  However, as with any loan product, the lessees must meet certain financial qualifications.
When a homestead lease is cancelled or surrendered, the lot returns to DHHL's inventory so that DHHL can re-award it to a qualified waitlist applicant.  The new lessee who receives a re-award must pay the department the appraised value of the existing structure.  Sometimes, it is difficult to identify an applicant who (1) desires to live in the area and on the lot being offered; and (2) is able to assume the financial obligations associated with the re-award.  As we have stated in the past, the department is moving forward with a number of programs to help beneficiaries prepare for and meet these obligations.
Between 25%-30% of moneys set aside annually for capital improvement projects statewide are set aside by DHHL for repair and maintenance of aging infrastructure in existing communities. The remaining capital improvement funds are geared to developing projects to address the needs of those on our waitlists.
PART I
1. How many boarded-up homes does DHHL currently have in its inventory? Commissioner Tassill told me that DHHL at a recent beneficiary consultation meeting in Waimanalo had indicated that there were more than 40 statewide. Is that accurate? 
The department has boarded up 14 homes over the last several years with 4 homes being re-awarded to qualified beneficiaries. According to our records, we do not have 40 homes in our state-wide inventory that are boarded up.
2. Under what circumstances would DHHL board up a home: If the family is evicted and the department anticipates a potentially lengthy period in which the home is unoccupied? Or does DHHL automatically board up any home it re-possesses because of lease cancellation?
Whether the lease is cancelled, surrendered or has no successor, DHHL boards the home when the department takes possession to secure the property and protect the home from vandalism.
3. How long do such homes on average remain with DHHL until it is resold to another family and a new lease is issued for the land?  
The time varies depending on the reason the house was returned to DHHL inventory.  There are many steps involved in making sure the properties are legally back in inventory, including obtaining the appraisal, home inspection, termite inspections and survey.
4. Some neighbors of vacant homes I've seen told me the homes have been boarded up for several years. Some indicated the homes have been boarded up or vacant for more than 10 years. One Nanakuli home at 89-1113 Puawiliwili Pl. has been unoccupied for roughly 20 years, according to a neighbor. Have there been homes that have been unoccupied for 10 years or more? What is the longest period DHHL is aware of in which a re-possessed home has remained vacant before another beneficiary family buys it and moves in?
This property is under an active homestead lease.  There are no delinquent accounts for this lease.
5. What are some of the challenges DHHL faces in trying to get the vacant homes re-sold and re-occupied?
There are challenges getting qualified buyers to purchase previously owned homes. Often times those that can qualify financially want a new home and those that want a previously owned home cannot qualify for a loan.  Location can also be a factor if the home is not located in an area the applicant wants to reside.  The condition of the home also plays a factor.
6. What is the process for re-selling the homes? 
Once the lease is cancelled or surrendered, the department does a property inspection to confirm the Home Inspection, Survey and Termite report.
If all is in order the property is added to others ready for re-award as part of a "scattered lot offering". DHHL contacts beneficiaries from the applicant list for the area/island the home is located in by letter in rank order to notify them of the available home(s).  Depending on the number of homes available and the prices of the home's appraised value, DHHL determines how far down the list to initially notify based on past offerings.  If the home(s) remain unselected DHHL continues down the waitlist in rank order until all the homes are selected.
Qualified beneficiaries that are interested are sent out financial packets to complete. Individuals that can qualify for a loan are invited to an open house to view the property. Applicants are then ranked and contacted to see if they are interested in selecting the property. If they are interested in purchasing the house, they are asked to execute a sales contract and lease agreement.
Does the agency contact a certain number of beneficiaries at the top of the wait list and work from that subset to find a buyer?
Yes – see above.
7. Does DHHL believe its process for getting such homes re-occupied is working well?
The process is working well for those properties that are in good condition.
Or is the department planning to change the process to reduce the time the homes remain vacant?
For those properties that are badly damaged the department has been looking at working with a non-profit to do the repair and then offer the repaired unit to the wait list.   The home at 89-818 Lauunoni  Place is an example of that type of partnership were we work with Habitat and USDA  for the construction and financing ending up with an affordable home package for the beneficiary.  As to time property remains vacant, a lot of that has to do with the cancellation process, the length of time to serve parties, the re-assignment of the mortgage to DHHL, etc.
I also plan to write about homes in severe stages of disrepair on DHHL land. I've seen some that are clearly not fit to live in. Here are my questions related to the aging homes in homestead communities:
8. How much does DHHL allocate or spend annually toward the repair of existing homes, either through direct loans, grants to nonprofits or other initiatives? 
The department is not a public housing agency.  As the lender of last resort with approximately 26,000 unduplicated applicants on the wait list, we strive to provide affordable opportunities for home ownership.  In the past, MOUs with several counties have enabled elderly or disabled beneficiaries access to funds for home repairs, based on the RERP program that exists for non-Hawaiians and administered by each of the Counties.  Since January 2013, the department has consolidated its efforts for home repair under NAHASDA and currently have budgeted in FY 13-14  $1.5 million for eligible beneficiaries in Kalamaula, Molokai; $1.5 million for eligible beneficiaries in Keaukaha/Pana'ewa; and $1.9 million for those beneficiaries who were unserved by the C&C of Honolulu when the contract was returned in 2011.  Those monies are already servicing lessee families and a waitlist on all islands is being maintained.  In the fiscal year just ended, FY 12-13, 8 families were assisted by the MOU with Hawaii County and the department served 4 families from the list of eligible 19 lessees returned by the C&C of Honolulu (despite not having a position dedicated to the program at that time).  NAHASDA subrecipients served 25 families with home repair during that same time frame.
9. How many homes in each of the past five years have undergone major renovations via such initiatives?
Rehabilitation totals taken from the NAHASDA Annual Performance Reports.
FY 12-13: Eighteen (18) Five of these were for minor repairs through the Kula no na Po'e Hawaii grant.
FY 11-12:  Seven (7)
FY 10-11: Eleven (11)
FY 09-10: One (1)
FY 08-09: None (0)
10. Based on data in the annual Native Hawaiian Housing Plan, the number of families living in substandard housing on Hawaiian home lands has increased nearly 50 percent since June 2009. Some 197 families currently live in substandard housing, according to the latest plan. Examples of such housing aren't hard to find in some of the older homestead communities. Given the extent of the problem, does DHHL believe it should be devoting more resources to rehabbing existing homes?
In the same plan, it states the need for housing for just those NAHASDA-eligible applicants at over $10 billion.  Yet, the annual NAHASDA allotment is only $12 million to provide sufficient housing opportunities to over 29,000 eligible waitlist and potential applicants.  The department believes devoting 20% of the annual allotment DHHL received for the FY 11-13 is illustrative of our attempt to address the need in our communities.  However, without additional funding from the state legislature (remember, this past session was the first in decades that saw the department receiving any general funding), the need will continue to grow.
11. What are some of the challenges the department faces in trying to assist beneficiary families maintain their homes and, in turn, protect the value of assets on DHHL land?
Lack of economic self sufficiency on the part of some lessees and a lack of departmental resources.
12. Some beneficiaries say DHHL should be devoting more NAHASDA funding to helping eligible beneficiaries rehab their existing homes, particularly given the concerns expressed by HUD and others in recent years about the backlog of unencumbered NAHASDA funds. At a February 2012 commission meeting, commissioners were told that about $42 million in NAHASDA money was unencumbered and that a HUD assistant secretary had raised concerns about unexpended funds more than two years old, according to minutes and other documents from that meeting. What is the current amount of unencumbered NAHASDA funds and why is so much unencumbered, given the department's repeated statements in the past about a lack of resources to get more beneficiaries onto homestead lands?
NAHASDA's priority focus is to put native Hawaiians into homes.  The commission's approval of the Native Hawaiian Housing Plans for the last five years has indicated the priority going to infrastructure and development of new affordable housing opportunities.
13. How much in NAHASDA funds over the past several years has been devoted to rehabbing of homes? Is that amount expected to increase and, if so, by how much?
See answer for #10.
As part of my research, I learned of a home in Anahola, Kauai, that was completed around August  2011 through a self-help program run by CNHA and funded through DHHL. The deal involving the family that originally was selected to purchase the home eventually fell through, and the new home, with its windows currently boarded up, still has not had its first occupants. CNHA says DHHL took over marketing of the home in 2011.
14. Why has that Anahola home gone unoccupied for so long? 
The original selectee for lot 73 did not qualify for the loan and DHHL withdrew the selection before any of the homes were under construction.  DHHL notified the contractor, (in this case the Council for Native Hawaiian Advancement (CNHA)), that the department had no qualified buyers for the lot, and further notified CNHA that it was not authorized to construct a home on that lot.   After DHHL became aware of the home being constructed without authorization, DHHL made an attempt to have the home selected, but no qualified buyers were found.  We are currently in the process of getting the home re-appraised, inspected by a home inspector and termite inspector and the lot surveyed so that we may offer the home.
15. Whatever the reasons, the fact that a new home in Anahola has been unoccupied for more than two years while there's tremendous demand for residential homesteads suggests that the selection process needs reforming. Does the department agree or disagree with that assessment?
We disagree. See answer to #14
16. Does DHHL have other new homes — built through self-help programs, by developers or through other efforts — that have remained vacant more than a year and have yet to be occupied by beneficiaries? If so, how many such homes does DHHL have and where are they located? 
The department is aware of one other instance, but declines comment out of respect for the lessee's privacy interests.
Another aspect I plan to write about is why some homes in homestead communities are allowed to fall into severe disrepair, becoming uninhabitable and raising health and safety questions. Some of the abandoned homes have become magnets for vandals, drug users and other undesirables, neighbors say.
Homes are the property of private owners.
16. Does DHHL provide oversight to ensure homes on its lands don't become health and safety hazards because of disrepair?
Hawaii Administrative Rules Section 10-3-34 Building Requirements states that "building structures or improvements shall meet building and zoning codes and other ordinances and regulations of the respective counties, except as otherwise provided by the commission."  Health and safety is the responsibility of the private property owner and the respective county authority.
17. The city and county of Honolulu tells me that it does not have jurisdiction for enforcing building code violations on DHHL land unless DHHL authorizes the city to cite specific properties. Some of the dilapidated properties I've researched have no records showing that the city has cited the lessees of those properties. That suggests that no agency is enforcing any type of building-code or health and safety code violations. Please respond.
DHHL works cooperatively with all counties on these issues and looks forward to continuing in this regard.  We are interested in knowing who made this representation to you so that we can work on correcting any misinformation or misinterpretation in this regard.
18. Does DHHL have an estimate on how many homes on trust land statewide are abandoned or unoccupied (including the ones DHHL has re-possessed and those that are abandoned but still are in the lessees' names)? If so, do you have such numbers by island?
In cases of abandonment, properties are usually vacated with out providing notice to the department.  There are cases where homes are unoccupied and lessees continue to be in good standing with their financial obligations regarding their lease and mortgage payments.
I'm planning to mention specific homes in my story, and the paper will be publishing photographs of the homes. Among those I plan to include are the Anahola home (4279 Holoikalapa St.), the Nanakuli one (89-1113 Puawiliwili Pl.) and several others. Should I provide the addresses of the other homes so the department can provide the status of the homes? 
As these are private property interests, we highly recommend that the Star Advertiser seek and obtain permission from these homeowners to photograph and publish their homes in light of the tone of these questions.
PART II
(Responding to a list of property addresses provided by the Star-Advertiser)
Of the list of properties you provided for the Islands of Oahu and Kauai, just one — 41-266 Huli St., Waimanalo is under DHHL inventory for re-award.   All others on the list are under active homestead leases.
Since the series of stories first ran in May, the Department has tried to impress upon the Star Advertiser that financial literacy, loss mitigation, and keeping 50% blood quantum native Hawaiian kupuna and their families in their homes and leases is of utmost importance to us.
The Department of Hawaiian Home Lands respects the privacy of a lessee home owner and the confidential nature that is inherent with an individual's right to that privacy under state and federal statutes.
Also, in talking to neighbors of some of these properties, they have told me that complaints to DHHL about the conditions of those particular properties have resulted in little if any action. I'm hoping the responses you're putting together will address that issue generally. If you want me to let you know which specific properties I'll be quoting residents regarding their complaints, just let me know. But if you don't want to address specific properties, a general response would be helpful to provide the department's perspective. 
Please provide information regarding the complaints – ie. what was the complaint, when was it made, to whom at the department was it made, etc.  This will assist DHHL in taking any necessary follow-up action and improving its response system.